News Archives
Here are some stories that reflected updates and press releases about the Trust's recent activities, achievements and special announcements.
Top Stories
Notice to Remutaka Trappers/ Volunteers
Reminder:
The stag roar has started - or is about to start - and will last over the next few weeks in the Remutakas.
With this comes hunters in and out of the park after that elusive stag head or trophy. Given COVID-19 lockdowns also curtailed events last year, there may be many more hunters than usual out and about.
You have all been issued with high-viz clothing; Please wear it.
If you do not still have your high-viz vest and beanie, please let Melody McLaughlin know A.S.A.P. for replacement(s).
If you are not comfortable going in to the Park during this time, then please don't. The beasties can wait. Your safety is more important. This is particularly relevant for those of you who have trap-lines not on standard tracks and for kiwi handlers/ trackers.
Thank you!
Kiwi Avoidance Training - November
Rosemary and Melody have advised that we have our aversion trainer, Jim Pottinger, booked for the weekend 14 & 15 November.
We will run the training at the Catchpool Education Centre, Remutaka Forest Park as usual.
To ensure the dog's training is reinforced it is important to keep the training up-to-date for your dog/s by coming back for a refresher.
To gauge demand please can you confirm by email kat@remutaka.nz that you are interested in attending and which day, Saturday or Sunday, you would prefer. An email will sent inviting bookings at the beginning of November. If we book too early, your plans may change. We book in half hour slots on either day.
Minski does the right thing!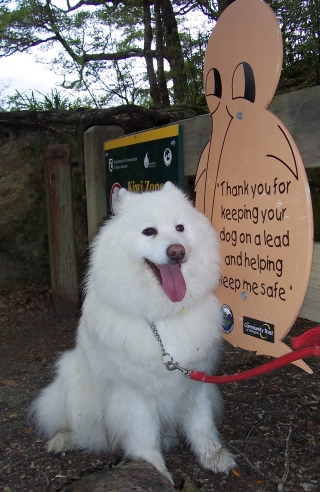 Without Avian Avoidance Training specific for Kiwi, even a well-trained dog (like Minski, the beautiful Samoyed displayed here) could potentially be a deadly hazard to our recently hatched chicks and adult, breeding kiwi, so please always keep your dog on a leash in the Remutaka Forest Park and especially in our designated Kiwi Zone! (Photo credit: PC)
Notice of Annual General Meeting
The 2020 Annual General Meeting of the Remutaka Conservation Trust will be held at: 7.30 pm on Thursday 15th October.
The venue is room C116 on the Ground Floor of C Block, Wellington Institute of Technology, Petone. (Access to C Block is off Kensington Avenue, Petone.
The agenda includes presentation of our annual report, our financial reports, and election of a Management Committee for the next year.
There will also be the opportunity to raise and discuss other items of general interest.
Guest Speaker - Jim Lynch, QSM
We are also delighted to advise that the guest speaker at our AGM will be Jim Lynch QSM, the inspiration behind the founding and establishing of Zealandia. Come along and hear Jim talk about how he and his dedicated band of co-conspirators discovered a natural valley in the middle of suburban Wellington some 30 years ago and turned their dream into the highly successful eco-sanctuary we have now. We look forward to seeing you there!
Annual General Meeting - 2019
The Rimutaka Forest Park Charitable Trust Inc. operating as:
Remutaka Conservation Trust
Venue:

Petone Library Meeting Room

Brittania St

, Petone

Date:
Wednesday, 30th October

, 2019

Time:

7.30pm
Our grateful thanks to Grant Watt, who retired from the office of Trust Secretary last night. Grant has put in many years of great service to our community group in this role. He remains a Remutaka Conservation Trust member and will continue to help out with our CiviCRM system and FIXIT team.

New committee members welcomed last night were Esther King and Linda Olsen - both well-known to the Trust through previous community group liaisons and events. 2019 - 2020 Committee

The AGM was followed by a superbly informative and amusing presentation from

Stephen Marsland

on the topic:

"Cryptics and Cross Words: Spying on Kiwi"

.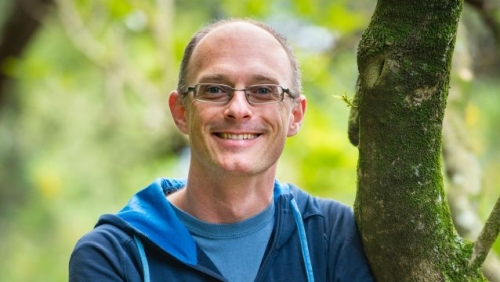 Stephen Marsland is professor of mathematics and data science in the School of Mathematics and Statistics at Victoria University of Wellington. (Photo credit: Victoria University of Wellington).
His research interests are in applications of geometry and complex systems, principally shape spaces, machine learning, and algorithms.
S
tephen is the author of "Machine Learning: An Algorithmic Perspective" - This book is aimed at computer science and engineering undergraduates studying machine learning and artificial intelligence. Now in its 2nd edition.
H
e does a lot of work analysing birdsong, with the aim of automatically recognising bird species and inferring population densities from this information.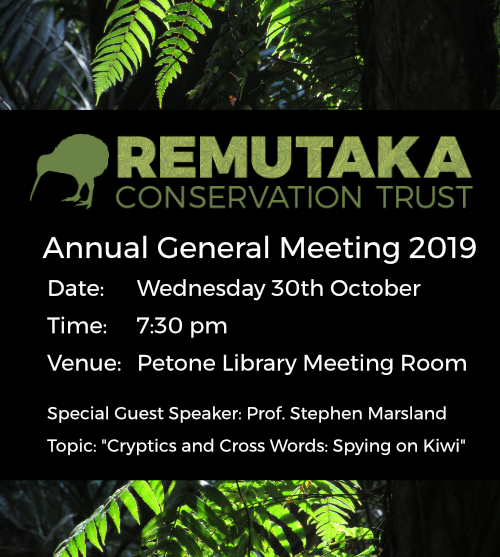 Notice for the AGM for Remutaka Conservation Trust held on Wednesday, 30th Oct, 2019.
Canine Kiwi Aversion Training
Opportunity to get your dog(s) trained to avoid kiwi occurred twice in 2019, with two more sessions planned for 2020.
Specialist aversion trainer, Jim Pottinger, will put your dog(s) through a series of kiwi sensory experiences in an outdoor setting and teach them to avoid kiwi encounters.
Venue as usual will be the Catchpool Centre near the entrance to the Remutaka Forest Park down at the Catchpool.
Bookings are essential - To do so, please contact Rosemary Thompson via email at kat@rimutakatrust.org.nz to express your interest - or to seek further details - so that an invitation with a time to book in with your dog(s) on your preferred day that weekend can be sent via email in the week before the training event.
Goat Cull - Turere & Whakanui Catchments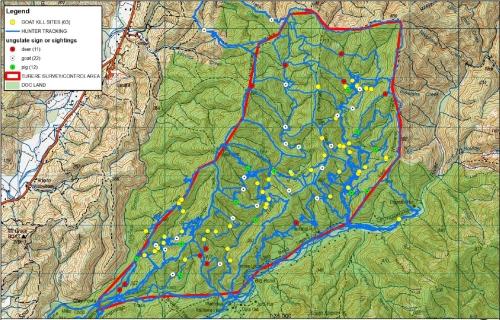 Map showing extent of recent ungulate control operation sponsored by DOC in the Remutaka Forest Park. (Click for a larger image). Source: BCL Report, June 2018.
Feral goats, pigs and deer do a huge amount of damage to native New Zealand forests, leading to the local extinction of many precious endemic plants and the wildlife communities dependent upon them.
The Department of Conservation recently commissioned Backcountry Contracting Limited (BCL) to conduct a low-intensity survey and operational sweep for goats and other ungulates in the core Remutaka kiwi territory made up of the Whakanui and Turere catchments.
63 goats were killed and a survey made of all goat, deer and wild pig sightings. The operation was delivered using 2 ground hunters with indicating, finder/bailer and indicating/bailing type dogs.
BCL made a number of helpful observations and recommendations to DOC following this survey. One was that there is a need to target ALL ungulate species in the control area, as well as in neighbouring catchments, to reduce the migration of feral pests into the area.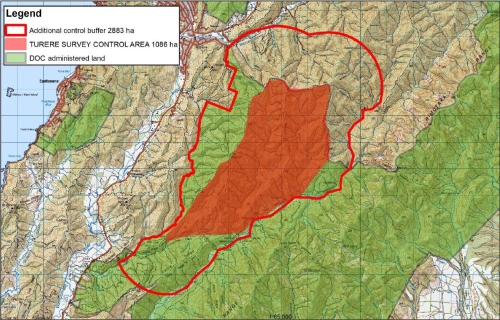 Map of suggested buffer zones and recommended extended ungulate control - Remutaka Forest Park. (Click for a larger version) BCL Report, June 2018
Recent Hatches...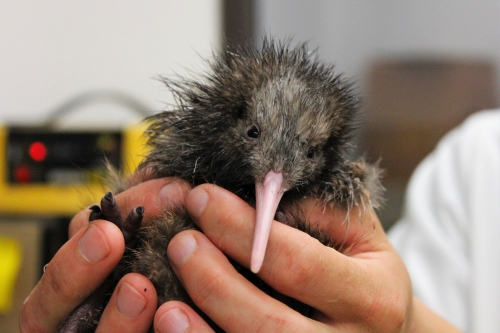 Kiwi chick, currently designated RFP48, being held by a staff member at the Pukaha Mt Bruce National Wildlife Centre hatchery soon after it hatched from its egg. Photo credit: @PukahaMtBruce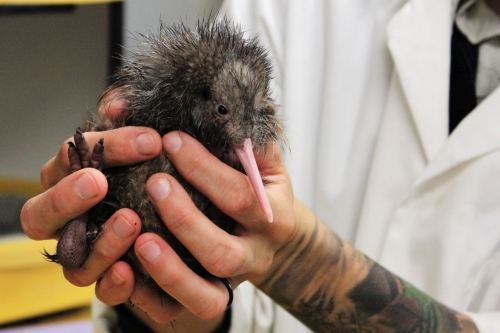 Another photo of kiwi chick, RFP48, being held up for show at Pukaha Mt Bruce. (Click any photo for a larger image...)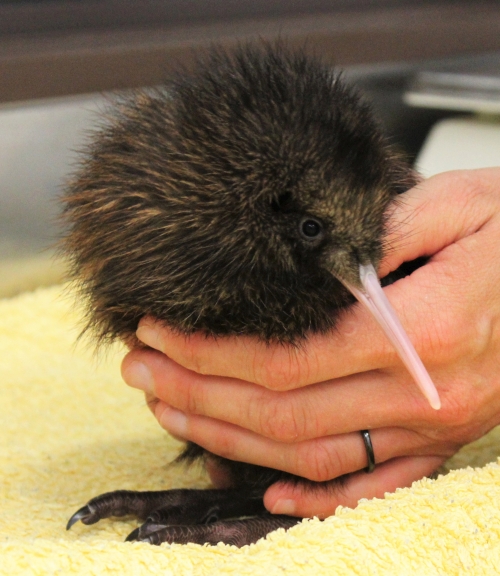 The meaning of 'cute' - a Remutaka Forest Park chick just a day or so after it hatched from its egg at Pukaha Mt Bruce. #RFP47
Photo credit: Pukaha Mt Bruce.
Recent visitors...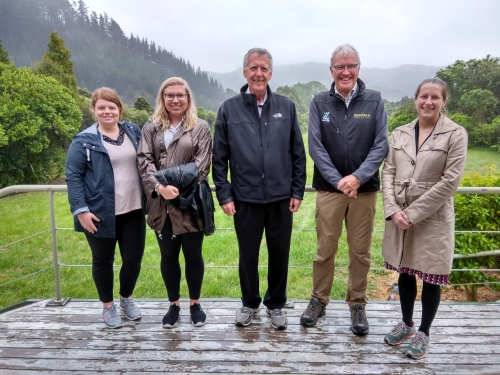 US Embassy (NZ) staff with visiting former Chief of United States Forest Service, Dale Bosworth and RFPT President, Geoff Cameron at the Catchpool Centre, Remutaka Forest Park.
Chief Bosworth is in New Zealand on an official US State Department speaking tour, during which time he has visited many forestry-related organisations and research institutions. We were delighted that he came to visit us at the Catchpool on a somewhat damp Friday afternoon to learn more about our conservation-related community volunteer efforts - and to reminisce about forestry matters with another lifetime career forester, Geoff Cameron.
Photo credit: PC.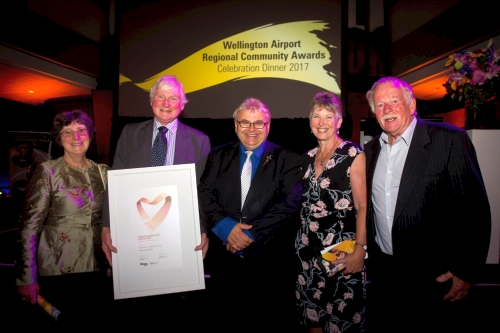 Trust members with Hutt City Council Mayor, Ray Wallace, at the finalist's dinner for the Wellington Airport Regional Community Awards, 2017. Photo credit: Wellington Airport.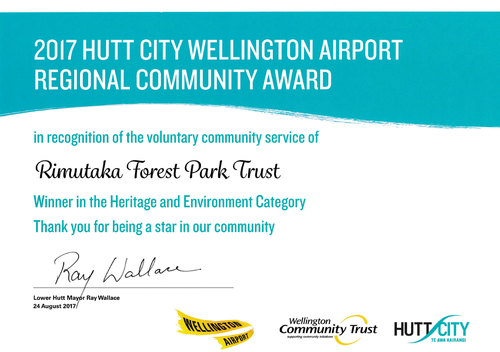 Rimutaka Forest Park Trust volunteers won the Heritage & Environment award at the 2017 Hutt City Wellington Airport Regional Community Awards too. Well done team!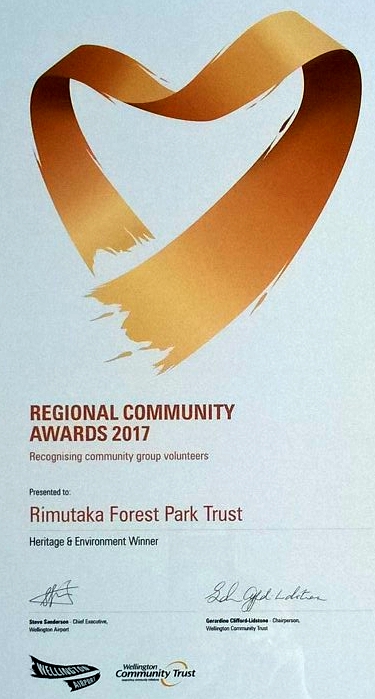 The Heritage & Environment Award certificate presented to the Rimutaka Forest Park Trust at the Wellington Airport Regional Community Awards 2017.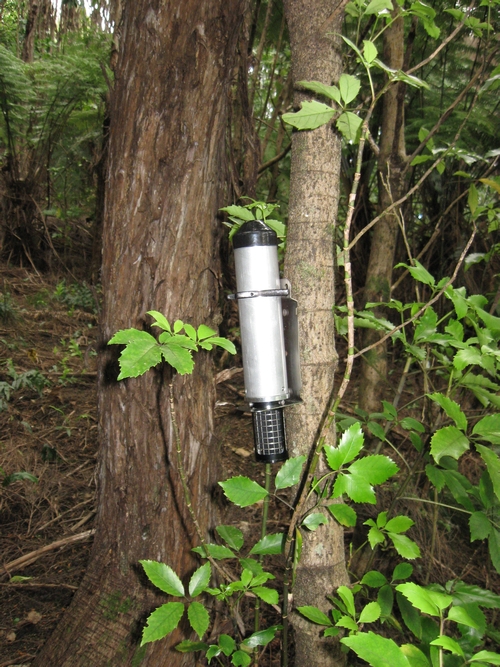 Acoustic survey of the diurnal bird population in the Remutaka Forest Park
In December of 2015 the Trust deployed acoustic recorders at 75 sites in the Remutaka Forest Park, in order to estimate the relative abundance of diurnal bird species. This was the first time such a comprehensive survey of day birds had been carried out in our region. We followed the counting protocol used by researchers at Victoria University of Wellington. (More...)
Read the full report here: Report: Acoustic Monitoring - RFPT
(Adobe Acrobat Reader format: PDF, approx. 4Mb)
RFPT End of Year BBQ - 2018
Members and volunteers with the Rimutaka Forest Park Trust are invited to attend this year's E.o.Y. barbecue, which will be held as usual at the Catchpool Centre, on Sunday 3rd December, from 4pm.
Bring your family along and join in the fun and games!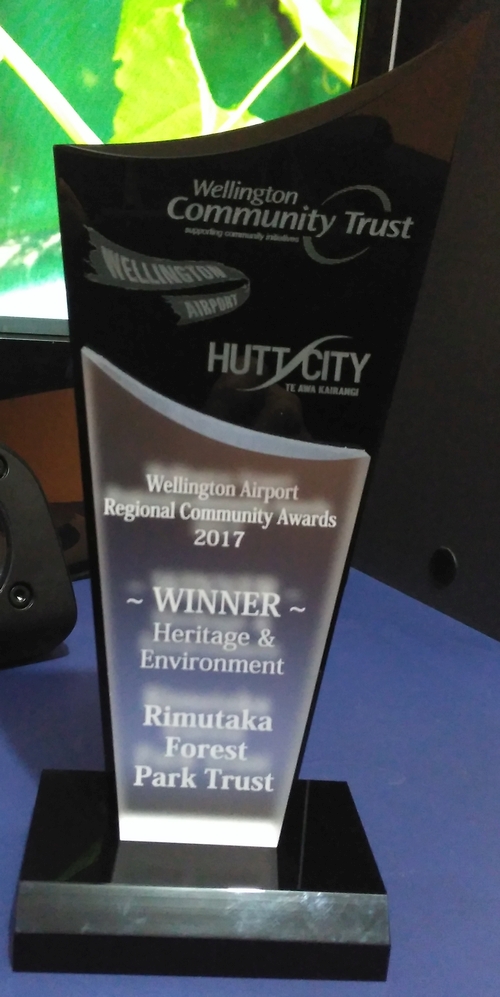 Trophy won by the Rimutaka Forest Park Trust volunteers at the Wellington Airport Regional Community Awards, 2017.
---
Kiwi Release
Saturday 29th April, 2017 - 11:50am Update
All three of the birds have now been captured up at the Wairakei Creche. Apparently they all tried to evade capture in a blackberry patch!
Fortunately our kiwi handlers were up to the challenge.
Estimated time of arrival - at the Wainuiomata Marae - for the first two birds at least, is just after 5:00pm this evening.
We will post futher updates here, and on our FaceBook page, so please stay tuned! PC.
Update @ 3:15pm: Drivers making good progress and still on time for 5pm arrival at Wainuiomata Marae. PC.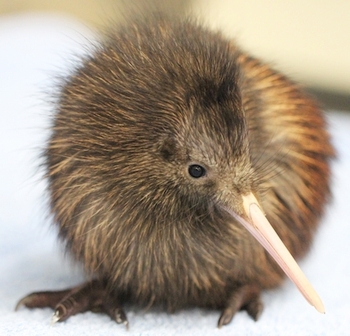 Mr Baggins' Chick #1 is also about to be released into the Rimutaka Forest Park. Photo Credit: Tara Swan.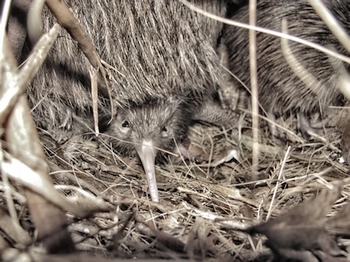 Busy burrow. Mr Baggins' with both chicks. One of our Brown kiwi, Mr Baggins, was just two year's old when he began breeding. Here are two of his chicks still in the nest with Dad. They will remain there for only a few more days before venturing out into the big, wide world. Photo Credit: Jo Sim
Missing Kiwi Found!
There were plenty of smiles and much jubilation today when our kiwi chick contractor and dog handler, Jo Sim contacted Melody McLaughlin today to say that her trained kiwi dog 'Rua' had pinpointed kiwi Bilbo's burrow in the Rimutaka Forest Park.
Bilbo (AKA SO12) had been missing for over a year since he dropped his radio transmitter, so it was wonderful to get him back among our monitored kiwi population sample again.
That wasn't the only news. Huddled underneath him for warmth and protection, were two gorgeous wee chicks!
After Bilbo had a shiny new radio tracking transmitter affixed to his leg once more, Jo put the chicks into a container and brought them out of the bush for transfer to the sanctuary at Pukaha Mt. Bruce.
A couple of hours later, Doc kiwi specialist at Pukaha Mt. Bruce, Jess weighed the chicks in at 203 grams (BO1)and 225 grams (BO2) before placing them into separate chick rearing pens for the night.
Following a series of recent egg lifts (Operation Nest Egg) Jess is also managing 4 kiwi eggs taken from burrows in the Rimutaka Forest Park which she informed me, are all progressing well - one has externally pipped and another is about to hatch at any moment!
BNZ Closed For Good
A large group of BNZ Bank employees will be coming out to the Catchpool Valley to plant native trees again this week as part of this year's BNZ Closed For Good Volunteer Day activities.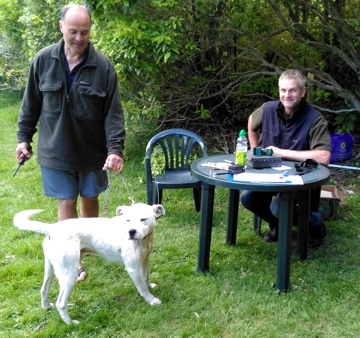 Jim Pottinger (right) talks to a dog owner ahead of his dog's Kiwi Avoidance Training session during a KAT for dogs weekend conducted in November, 2015.
Annual General Meeting
Rimutaka Forest Park Charitable Trust Inc

.



Tuesday 20th October 2015 - 7.30pm

Last night's AGM was followed by an excellent and well-received talk by Hugh Robertson, an eminent wildlife scientist & ecologist with long experience in kiwi research. His subject matter was of course NZ kiwi and their prospects for species survival. 'Can the Decline of Kiwi be Reversed?'

'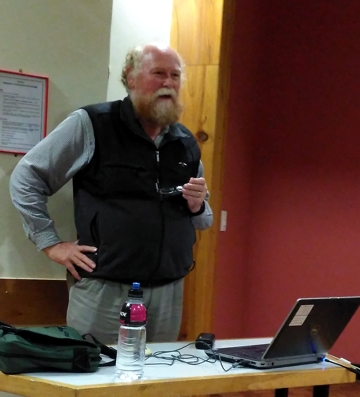 Dr Hugh Robertson speaking to members and guests of the Rimutaka Forest Park Trust at their 2015 AGM. Photo credit: PC
---
40 More Dogs Trained to Avoid Kiwi
Jim Pottinger, a canine kiwi aversion trainer registered with DOC, put 40 dogs through the Trust's Kiwi Aversion Training Programme last weekend, bringing the total number of dogs trained at the Catchpool to more than 300 to date.
21 hunting dogs and 19 pets were put through the system - though these dogs were mainly dogs that attended for reinforcement of their previous training.
Training habituation lasts 12 or 24 months depending on the dog and follow-up reinforcement training is needed 12 months after the initial session for full certification.
The Hutt City Council kindly loaned us a microchip reader for use on the day which was very useful.
This training was generously sponsored by BP matching employee volunteer hours through the Charities Aid Foundation in UK.
Next Kiwi Aversion Training Session for Dogs - 7th and 8th November - 2015
The next Kiwi Aversion Training offered by the Trust will occur in November 2015. Details here...
Book NOW! For more information contact Rosemary Thompson on (04) 569 4764 or 021 044 3279
There will also be an opportunity to have your dog trained to avoid PENGUINS. Details here...

Hunting dogs and pets being prepared for their kiwi aversion training session with Jim Pottinger at the Catchpool Centre. The training was provided free because of generous sponsorship from BP matching employee volunteer hours through the Charities Aid Foundation in UK.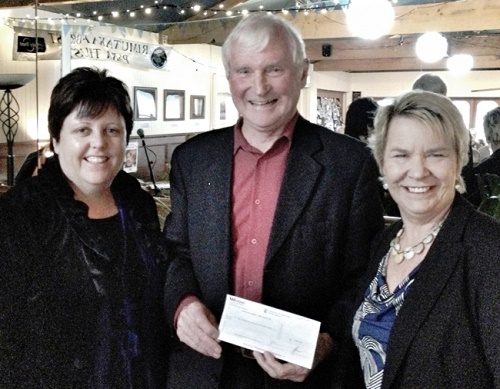 Sarah Owen (DOC) with Ian Armitage (President, RFPT) and Nicky Wagner (Parliamentary Private Secretary for Conservation) following Nicky's speech at the Trust's 25th Anniversary celebration. Nicky and Sarah presented the Trust with a cheque for $10,000 in recognition of the conservation work done by the Trust. (Please click for a larger view.) Image supplied.
Family Tree Planting Day - Catchpool
Sunday 8th September, 2013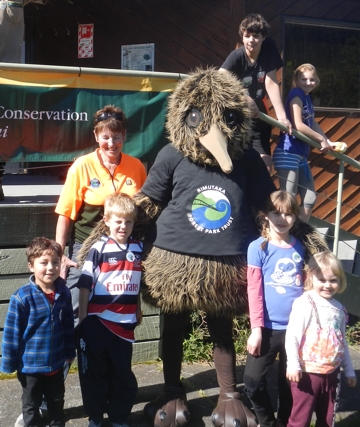 Rosemary Thompson and Rimu the Kiwi surrounded by children at the Planting Day for families at the Catchpool during Conservation Week 2013. (Click for a larger image...) Photo credit: DOC
What a blast! On Sunday a large number of families and many other hardy volunteers came to plant native trees and to enjoy the scenery and abundant wildlife in the Catchpool Valley - the main gateway entrance to the fabulous Rimutaka Forest Park. It was a beautiful, sunny day with very little wind, so conditions were just about perfect.
We supplied the trees, gloves, spades and the team from DOC put on some really nice snacks, a BBQ lunch and hot and cold drinks. Rimu the Kiwi turned up, so the kids had fun during a lovely family outing in very pleasant surroundings. Two very full trailer-loads of native trees were planted.
Species planted included five-finger, northern rata, cabbage trees, nikau, kowhai, totara and karamu.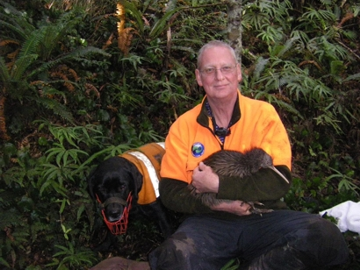 Kiwi dog "Maddie" found male kiwi, "Rush" after he went missing for several weeks due to transmitter failure. Trust kiwi handler Kevin Alekna, shown above holding "Rush", said he was amazed at Maddie's work rate and blown away when she found the burrow. He put a new radio transmitter on "Rush". There was a bonus too, as they found Rushs' mate, "Elemar" in the same burrow! She was without a transmitter as well, so they weighed and health-checked her too for good measure!
Photo credit Jo Sim. (Click for a larger view...)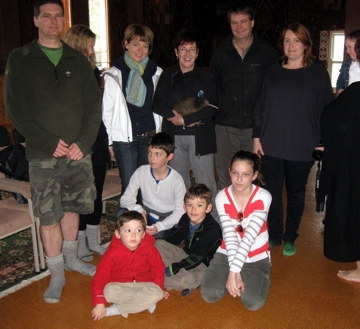 The team from Z Energy with their kiwi, Tahi, following the blessing ceremony at the Wainuiomata Community Marae. (Click for a larger image.) Photo credit: PC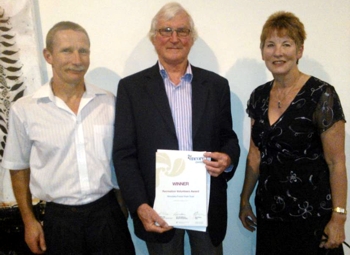 Mike White, Ian Armitage and Rosemary Thompson show off the 2012 Encore Award presented to them by Fran Wilde, Chair of the Greater Wellington Regional Council.
Photo credit: Alan Thompson
That night, our President, Ian Armitage, sent out the following email to fellow Trust volunteers...

"A big congratulations to all volunteers in the Rimutaka Forest Park Trust. At the Encore Awards ceremony held at the City Gallery, Wellington City Civic Centre this evening we were judged the winner of the Recreation Volunteers Award. Well done to you all. There were four finalists and we were both surprised and delighted to be named. A close runner up was the Makara Peak Mountain Biking Group".
The Recreation Volunteers Award presented to us by Ms. Fran Wilde, Chair of the Greater Wellington Regional Council, is one of seven categories of the Encore Award (Community Partnerships Award, Kaitiaki Award, Landowners' Conservation Award, School Environmental Project Award, Excellence in Compliance Award, Environmental Protection Award, Recreation Volunteers Award)."
The Mayor of Hutt City, Ray Wallace presents a 2012 Hutt City Wellington Airport Regional Community Award to The Rimutaka Forest Park Charitable Trust at a ceremony at Silverstream on Tuesday, 18th September. The Trust was the winner in the heritage and environment category. Pictured from left to right are Rosemary Thompson (Vice President) Kelly Anso (Trust Committee) Ray Wallace (Mayor) and Janet Lawson (Trust Committee and Dawn Chorus Coordinator).
Click for a larger image. Photo Credit:- Ross de Rouffignac.
Updated 5MBC Data
To view a summary of Ian Armitage's latest 5 Minute Bird Count results for the Catchpool Valley and environs, please click here...
---
New website for community groups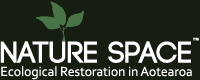 There are hundreds of community restoration groups and individual landowners in New Zealand dedicating time and effort to restore our native ecosystems. The Nature Space website supports these people.
Nature Space is a website for groups, individuals and landowners undertaking ecological restoration in New Zealand. It provides valuable information and resources to assist these community groups in their efforts to preserve and protect our precious and varied landscapes.
The conservation work carried out by these communities is vital not only for the intrinsic value of our biodiversity, but also for the health and prosperity of New Zealand.
To view the website, or to add your group, click here: