News
Here are some stories that reflected updates and press releases about the Trust's recent activities, achievements and special announcements.
Top Stories
Notice of our 2018 Annual General Meeting
This year we are celebrating our 30th anniversary since our Trust was formed in October 1988.
So come along to our Annual General Meeting on Wednesday, 10th October, at 7:30pm.
Venue will be the Petone Library Meeting Rooms, in Brittania Street, Petone. (Ample parking nearby...)
Our guest speaker will be Dr Danielle Shanahan, the Manager Conservation and Research at Zealandia. Danielle will be speaking about "Restoration of the bird community in Wellington: what it means for our people".
We look forward to seeing you there - friends and family are most welcome.
Canine Kiwi Aversion Training - April 2018
NOTE: (April Kiwi Aversion Training Now Fully Booked, so we'll schedule another weekend in October or November, 2018).
Another opportunity to get your dog(s) trained to avoid kiwi is coming up this month on the weekend of 28th and 29th of April 2018.
Specialist aversion trainer, Jim Pottinger, will put your dog(s) through a series of kiwi sensory experiences in an outdoor setting and teach them to avoid kiwi encounters.
Venue as usual will be the Catchpool Centre near the entrance to the Remutaka Forest Park down at the Catchpool.
Bookings are essential - To do so, please contact Rosemary Thompson via email at kat@rimutakatrust.org.nz to express your interest - or to seek further details - so that an invitation with a time to book in with your dog(s) on your preferred day that weekend can be sent via email in the week before the training event.
RFPT End of Year BBQ
Members and volunteers with the Rimutaka Forest Park Trust are invited to attend this year's E.o.Y. barbecue, which will be held as usual at the Catchpool Centre, on Sunday 3rd December, from 4pm.
Bring your family along and join in the fun and games!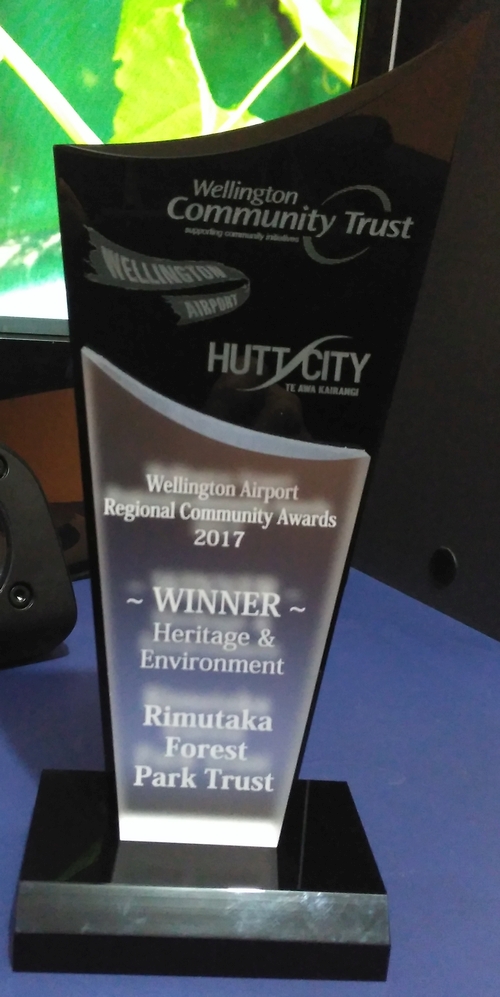 Trophy won by the Rimutaka Forest Park Trust volunteers at the Wellington Airport Regional Community Awards, 2017.
---
Kiwi Release
Saturday 29th April, 2017 - 11:50am Update
All three of the birds have now been captured up at the Wairakei Creche. Apparently they all tried to evade capture in a blackberry patch!
Fortunately our kiwi handlers were up to the challenge.
Estimated time of arrival - at the Wainuiomata Marae - for the first two birds at least, is just after 5:00pm this evening.
We will post futher updates here, and on our FaceBook page, so please stay tuned! PC.
Update @ 3:15pm: Drivers making good progress and still on time for 5pm arrival at Wainuiomata Marae. PC.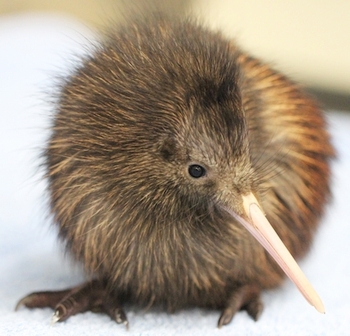 Mr Baggins' Chick #1 is also about to be released into the Rimutaka Forest Park. Photo Credit: Tara Swan.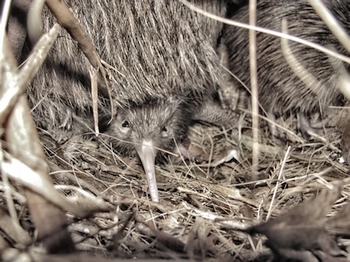 Busy burrow. Mr Baggins' with both chicks. One of our Brown kiwi, Mr Baggins, was just two year's old when he began breeding. Here are two of his chicks still in the nest with Dad. They will remain there for only a few more days before venturing out into the big, wide world. Photo Credit: Jo Sim
Missing Kiwi Found!
There were plenty of smiles and much jubilation today when our kiwi chick contractor and dog handler, Jo Sim contacted Melody McLaughlin today to say that her trained kiwi dog 'Rua' had pinpointed kiwi Bilbo's burrow in the Rimutaka Forest Park.
Bilbo (AKA SO12) had been missing for over a year since he dropped his radio transmitter, so it was wonderful to get him back among our monitored kiwi population sample again.
That wasn't the only news. Huddled underneath him for warmth and protection, were two gorgeous wee chicks!
After Bilbo had a shiny new radio tracking transmitter affixed to his leg once more, Jo put the chicks into a container and brought them out of the bush for transfer to the sanctuary at Pukaha Mt. Bruce.
A couple of hours later, Doc kiwi specialist at Pukaha Mt. Bruce, Jess weighed the chicks in at 203 grams (BO1)and 225 grams (BO2) before placing them into separate chick rearing pens for the night.
Following a series of recent egg lifts (Operation Nest Egg) Jess is also managing 4 kiwi eggs taken from burrows in the Rimutaka Forest Park which she informed me, are all progressing well - one has externally pipped and another is about to hatch at any moment!
BNZ Closed For Good
A large group of BNZ Bank employees will be coming out to the Catchpool Valley to plant native trees again this week as part of this year's BNZ Closed For Good Volunteer Day activities.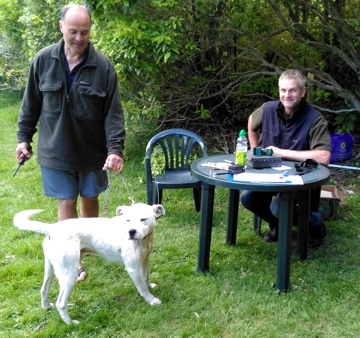 Jim Pottinger (right) talks to a dog owner ahead of his dog's Kiwi Avoidance Training session during a KAT for dogs weekend conducted in November, 2015.
Annual General Meeting
Rimutaka Forest Park Charitable Trust Inc

.



Tuesday 20th October 2015 - 7.30pm

Last night's AGM was followed by an excellent and well-received talk by Hugh Robertson, an eminent wildlife scientist & ecologist with long experience in kiwi research. His subject matter was of course NZ kiwi and their prospects for species survival. 'Can the Decline of Kiwi be Reversed?'

'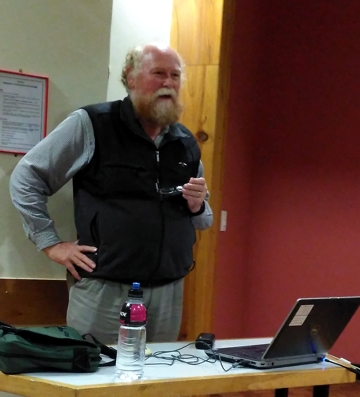 Dr Hugh Robertson speaking to members and guests of the Rimutaka Forest Park Trust at their 2015 AGM. Photo credit: PC
---
40 More Dogs Trained to Avoid Kiwi
Jim Pottinger, a canine kiwi aversion trainer registered with DOC, put 40 dogs through the Trust's Kiwi Aversion Training Programme last weekend, bringing the total number of dogs trained at the Catchpool to more than 300 to date.
21 hunting dogs and 19 pets were put through the system - though these dogs were mainly dogs that attended for reinforcement of their previous training.
Training habituation lasts 12 or 24 months depending on the dog and follow-up reinforcement training is needed 12 months after the initial session for full certification.
The Hutt City Council kindly loaned us a microchip reader for use on the day which was very useful.
This training was generously sponsored by BP matching employee volunteer hours through the Charities Aid Foundation in UK.
Next Kiwi Aversion Training Session for Dogs - 7th and 8th November - 2015
The next Kiwi Aversion Training offered by the Trust will occur in November 2015. Details here...
Book NOW! For more information contact Rosemary Thompson on (04) 569 4764 or 021 044 3279
There will also be an opportunity to have your dog trained to avoid PENGUINS. Details here...

Hunting dogs and pets being prepared for their kiwi aversion training session with Jim Pottinger at the Catchpool Centre. The training was provided free because of generous sponsorship from BP matching employee volunteer hours through the Charities Aid Foundation in UK.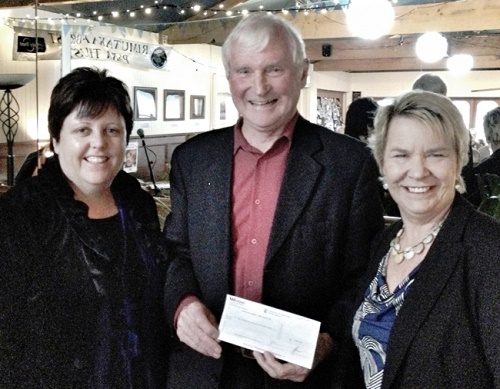 Sarah Owen (DOC) with Ian Armitage (President, RFPT) and Nicky Wagner (Parliamentary Private Secretary for Conservation) following Nicky's speech at the Trust's 25th Anniversary celebration. Nicky and Sarah presented the Trust with a cheque for $10,000 in recognition of the conservation work done by the Trust. (Please click for a larger view.) Image supplied.
Family Tree Planting Day - Catchpool
Sunday 8th September, 2013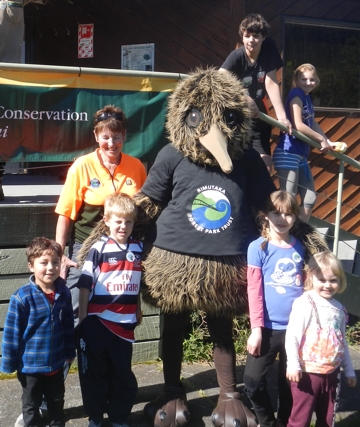 Rosemary Thompson and Rimu the Kiwi surrounded by children at the Planting Day for families at the Catchpool during Conservation Week 2013. (Click for a larger image...) Photo credit: DOC
What a blast! On Sunday a large number of families and many other hardy volunteers came to plant native trees and to enjoy the scenery and abundant wildlife in the Catchpool Valley - the main gateway entrance to the fabulous Rimutaka Forest Park. It was a beautiful, sunny day with very little wind, so conditions were just about perfect.
We supplied the trees, gloves, spades and the team from DOC put on some really nice snacks, a BBQ lunch and hot and cold drinks. Rimu the Kiwi turned up, so the kids had fun during a lovely family outing in very pleasant surroundings. Two very full trailer-loads of native trees were planted.
Species planted included five-finger, northern rata, cabbage trees, nikau, kowhai, totara and karamu.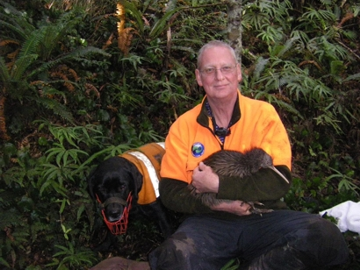 Kiwi dog "Maddie" found male kiwi, "Rush" after he went missing for several weeks due to transmitter failure. Trust kiwi handler Kevin Alekna, shown above holding "Rush", said he was amazed at Maddie's work rate and blown away when she found the burrow. He put a new radio transmitter on "Rush". There was a bonus too, as they found Rushs' mate, "Elemar" in the same burrow! She was without a transmitter as well, so they weighed and health-checked her too for good measure!
Photo credit Jo Sim. (Click for a larger view...)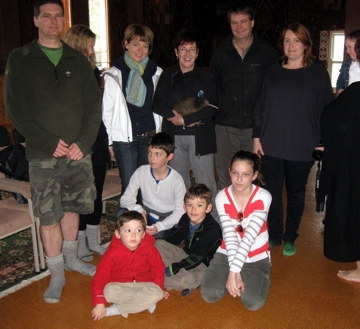 The team from Z Energy with their kiwi, Tahi, following the blessing ceremony at the Wainuiomata Community Marae. (Click for a larger image.) Photo credit: PC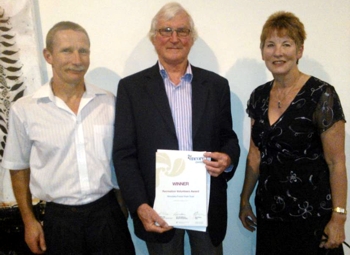 Mike White, Ian Armitage and Rosemary Thompson show off the 2012 Encore Award presented to them by Fran Wilde, Chair of the Greater Wellington Regional Council.
Photo credit: Alan Thompson
That night, our President, Ian Armitage, sent out the following email to fellow Trust volunteers...

"A big congratulations to all volunteers in the Rimutaka Forest Park Trust. At the Encore Awards ceremony held at the City Gallery, Wellington City Civic Centre this evening we were judged the winner of the Recreation Volunteers Award. Well done to you all. There were four finalists and we were both surprised and delighted to be named. A close runner up was the Makara Peak Mountain Biking Group".
The Recreation Volunteers Award presented to us by Ms. Fran Wilde, Chair of the Greater Wellington Regional Council, is one of seven categories of the Encore Award (Community Partnerships Award, Kaitiaki Award, Landowners' Conservation Award, School Environmental Project Award, Excellence in Compliance Award, Environmental Protection Award, Recreation Volunteers Award)."
The Mayor of Hutt City, Ray Wallace presents a 2012 Hutt City Wellington Airport Regional Community Award to The Rimutaka Forest Park Charitable Trust at a ceremony at Silverstream on Tuesday, 18th September. The Trust was the winner in the heritage and environment category. Pictured from left to right are Rosemary Thompson (Vice President) Kelly Anso (Trust Committee) Ray Wallace (Mayor) and Janet Lawson (Trust Committee and Dawn Chorus Coordinator).
Click for a larger image. Photo Credit:- Ross de Rouffignac.
Updated 5MBC Data
To view a summary of Ian Armitage's latest 5 Minute Bird Count results for the Catchpool Valley and environs, please click here...
---
New website for community groups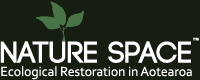 There are hundreds of community restoration groups and individual landowners in New Zealand dedicating time and effort to restore our native ecosystems. The Nature Space website supports these people.
Nature Space is a website for groups, individuals and landowners undertaking ecological restoration in New Zealand. It provides valuable information and resources to assist these community groups in their efforts to preserve and protect our precious and varied landscapes.
The conservation work carried out by these communities is vital not only for the intrinsic value of our biodiversity, but also for the health and prosperity of New Zealand.
To view the website, or to add your group, click here:

The Trust gratefully acknowledges the sponsorship, support and encouragement from the following local businesses for this fund-raising effort:
The Department of Conservation
The Interislander
Pak 'n Save Petone
Pak 'n Save Lower Hutt
Lone Star Restaurant (Petone)
Clive's Chemist
Countdown (Wainuiomata)
To see more about these wonderful folk (and other heroes supporting our Trust and its conservation and restoration activies) please visit this page... Our Heroes
Kiwi Recorders
Acoustic recorder placed on a tree trunk near one of our male kiwi burrows during our initial trials of these useful devices in early November, 2011. The recorders were set to record kiwi calls overnight and the "dawn chorus" in the mornings in an effort to capture a snapshot of the nocturnal soundscape in the Rimutaka Forest Park. Thousands of hours of recordings have now been collected from 8 recorders deployed over a wide area since November last year. The recordings are subsequently reviewed and analysed using a variety of acoustic analysis software applications that we are currently evaluating.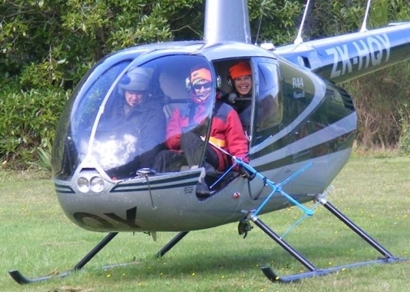 Maurice, Melody and Susan about to take off for their latest aerial kiwi hunt. Back-seat pilot, Susan offered plenty of gratuitous advice to the front-seat operators tasked to find our missing kiwi. Photo Credit Alan Thompson - Click for a larger image)