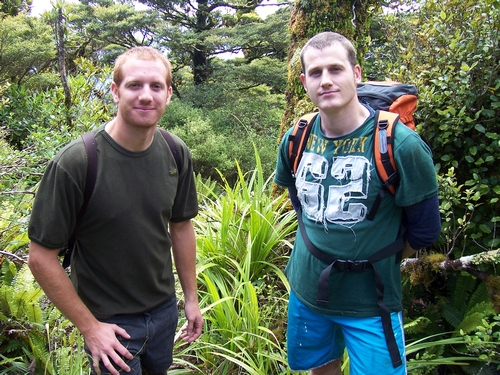 A tracking tunnel monitoring team heading up towards one of the many monitoring lines spread throughout the park.
Photo credit: PC.
If you love the great outdoors - and like the idea of 'Going for a walk in the bush on purpose' - then why not join our team?
We have a great number of interesting roles involving several conservation-related projects - many of which use high-tech equipment and contribute to ongoing scientific enquiry of nationally-important biodiversity and ecological research areas.
We provide comprehensive training for those who show aptitude and willingness to commit time and effort to learn and master key project requirements - plus offering plenty of opportunities for already-skilled individuals keen to strut their stuff to help us achieve our mission.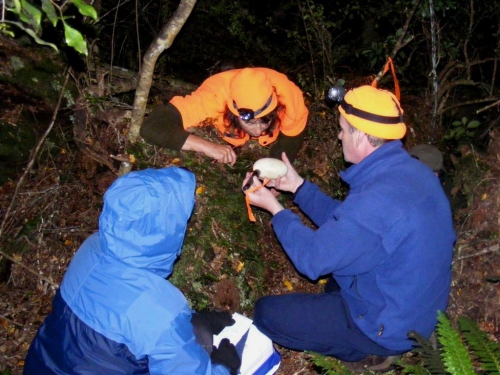 Candling a kiwi egg during a nighttime 'Operation Nest Egg' raid on a burrow to extract eggs for incubation at a hatchery.
A walk along the Orongorongo Track is often a great auditory experience! Besides the bird-song, the sound of the many fast-flowing streams (like the Catchpool Stream depicted here) and of waterfalls nearby is both soothing and stimulating at the same time!
Still want to volunteer but haven't found anything on the right that you can commit to?
The Trust also needs regular volunteers for the Catchpool Restoration Project. This forest restoration project aims to give Nature a helping hand to speed up the reforestation of the hillsides, wetlands, and stream banks with native plants and trees in order to quickly restore the original biodiversity of the area.
Each year, hundreds of corporate volunteers come to the Catchpool Valley to plant native trees, remove pest plants, maintain tracks, or carry out nursery work and a myriad of other conservation-related tasks, as part of their annual community service volunteer days. Numerous school groups do the same.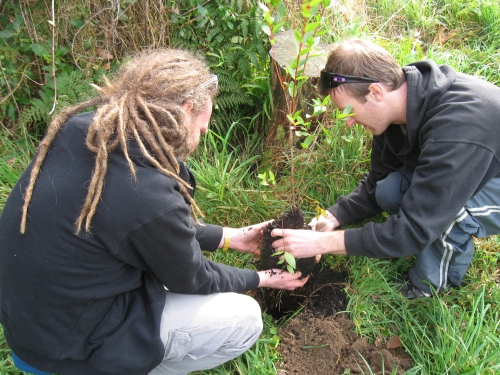 Corporate volunteers from ANZ Bank planting native trees during winter on the community volunteer day. Photo credit: PC.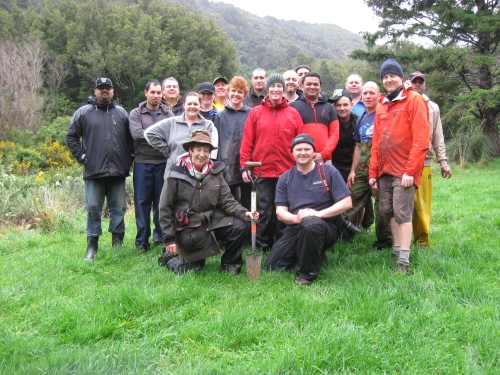 BP New Zealand employees with Trust volunteers on their community vounteer day outing at the Catchpool Restoration Project. Photo credit: PC.
Other ways you can also help us are by becoming a member; joining our Trust committee; and/or becoming a sponsor.
Still don't see anything that appeals at the moment? Please do check our website again soon, as new roles may become available.
Thank you for your interest; it is appreciated!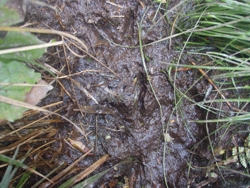 This kiwi wasn't wearing his gumboots. Look closely at this mud puddle and you will see some distinctive kiwi tracks. Photo credit:- Melody McLaughlin.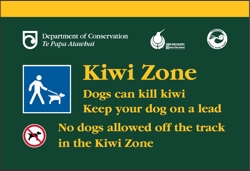 These Kiwi Zone signs appear along the Sunny Grove, Whakanui, McKerrow and Orongorongo Tracks in the Remutaka Forest Park.