Kiwi Project
The Remutaka Conservation Trust Kiwi Project is now in its 18th year with a trapping and tracking volunteer base of over 90 volunteers. The initial plan was to move a group (about 10 birds initially, in pairs) of North Island Brown kiwi from captivity in other locations nationwide to a 1000 hectare, predator-controlled site in the Remutaka Forest Park to establish a viable, self-sustaining Kiwi population.
Work began on the stoat-trapping network in 2003 and the first 6 kiwi were released into the park in May 2006.
Following our successful adult kiwi translocation from Little Barrier Island in April 2008, when 20 additional Brown Kiwi were added to our growing population, the number of adult and juvenile kiwi roaming the Turere and Whakanui Valleys has now reached over 200, with most chicks hatched recently in the Park itself and many more chicks hatched from eggs laid by our kiwi from earlier releases at Pukaha Mt Bruce and Rainbow Springs. These birds have all been returned to the Park.
Now considerably more than half the birds in the Remutaka Forest Park have been born and raised in the Park!
Two of the older birds from the original release (Koniwi and Milo) subsequently died of natural causes, but many new chicks have been successfully hatched from eggs laid and incubated by four of our founding population of kiwi pairs and several other of the translocated Little Barrier Island pairs.
At least four birds, Fern, Billy, Otautahi and Waikiwianui, were savaged and killed by dogs. (See our Kiwi Avoidance Training page to learn how you can get your dog trained to avoid kiwi).
Despite the losses to dogs, the Turere release area has proved to be an excellent foraging and breeding habitat for kiwi survival!
Our kiwi have dispersed widely from the original Turere Valley release zone. Check out the acoustic monitoring reports below to find out more.
---
Kiwi Call Monitoring using acoustic recorders
Here's the latest report from Susan Ellis and our monitoring team on our North Island Brown Kiwi call-monitoring conducted in the Remutaka Forest Park and adjacent territories during the period 2011 to 2021.
Report: Acoustic Monitoring Remutaka Kiwi 2011 - 2021 (PDF, 7.2Mb)
---
Trapping to save kiwi and other native wildlife
The initial (stoat trapped) Turere catchment release area was over 1000 ha in size, the minimum considered necessary for a self-sustaining population of brown kiwi.
Additional trap lines have since been extended into large areas of native bush bordering the original release area, providing plenty of space for the inevitable dispersal of our birds as the population increases. The trapped areas now extend over 7000 hectares.
The humane Doc 200 and 250 kill traps are checked fortnightly in the summer and monthly in the winter. Peak season for stoat population is Jan/Feb when the kits are leaving the nest and dispersing.
Hundreds of self-setting stoat and possum traps have also been deployed in recent months.
While fully grown brown kiwi (birds over 1200 grams) are capable of defending themselves against attack by stoats, their eggs and young chicks are vulnerable.
A robust predator control regime that includes an extensive boundary buffer and internal stoat trapping programme, along with continued monitoring of the brown kiwi population, will minimise the threat to young kiwi.
Because there is a problem with rabbits and hares in the Catchpool Valley and Orongorongo Valley, we have grave fears that eventually we will be visited by ferrets - which are much larger and even deadlier to adult kiwi and chicks than stoats, so a few years back we deployed some larger (DoC 250) ferret traps as well. DOC 250s can now also be found on several of our park boundary lines, like Clay Ridge, etc.
Winifred Long, our trapping data analyst, provided insights and feedback to our trappers at the Trust's 2023 AGM in October.
The presentation covered 20 years of predator trapping effort and results in the Remutaka Forest Park. See the charts and analysis of her PowerPoint presentation here:
(Warning! Large file, .pptx format)
RCT 2023 - 20-year Trapping Results and Analysis
If you would like to Sponsor a Trap and help save our kiwi and their progeny in the future, please click here!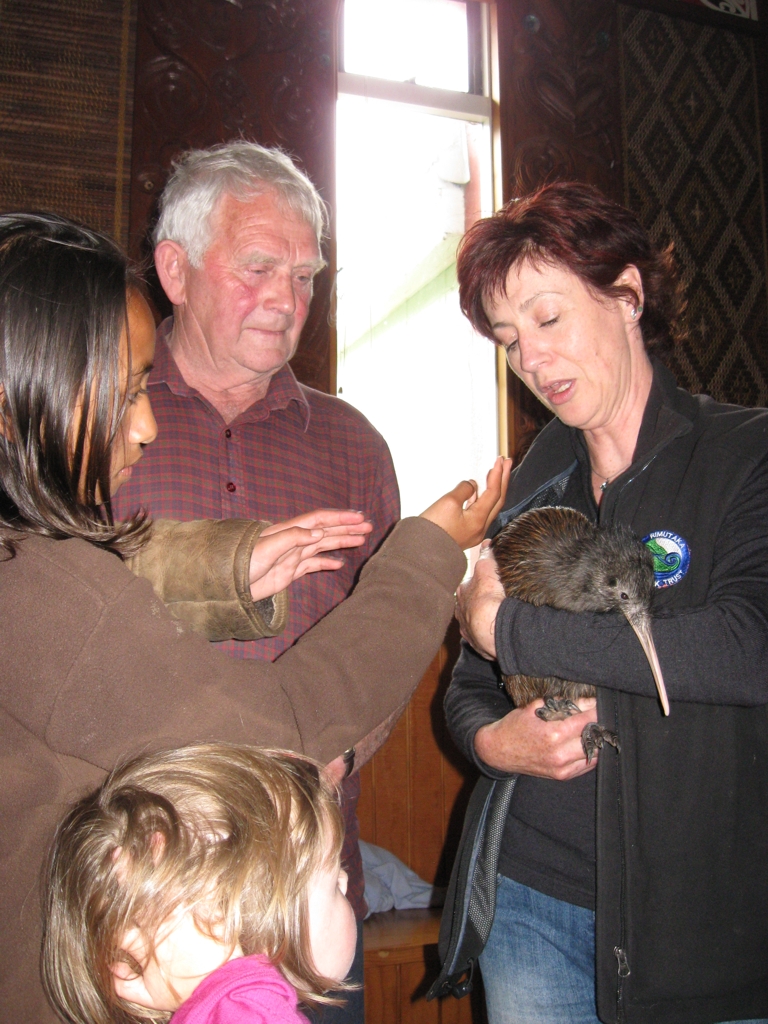 Kiwi Project Coordinator, Melody McLaughlin holds kiwi 'Sir Angus' for eager onlookers after the blessing ceremony at the Wainuiomata Community Marae. Photo credit: PC.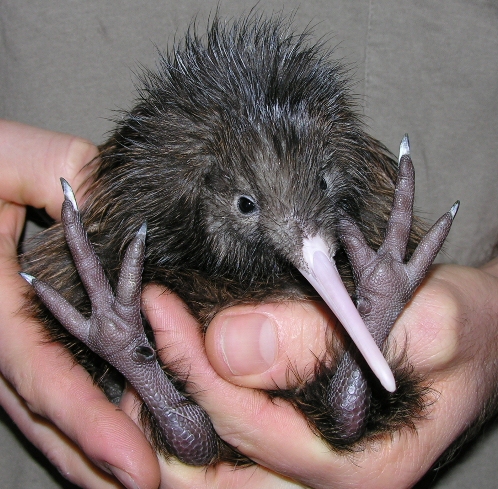 RFPT#5. Kiwi chicks are seriously cute and frequently feisty wee fellows! Photo credit: Pukaha Mt Bruce.
Volunteer Skills-Building Primer - An Introduction to Triangulation
(PDF ~730 kb)