Interpretive Panels - Catchpool Eco-Hotspot
Our Native Birds - Remutaka Forest Park
These information panels have been designed and erected by the Remutaka Conservation Trust to illustrate and describe features of several native birds occurring in the Remutaka Forest Park.
These signs also heralded an upcoming name-change for the Remutaka Range and forest park.
The Remutaka Range (as we know it today) was subject to a Treaty Settlement between the Crown and Wairarapa and Southern Hawkes Bay iwi (Rangitāne o Wairarapa & Rangitāne o Tamaki nui-ā-Rua) and the historic mistake in the spelling "Rimutaka" vs "Remutaka" has been accepted.
(An earlier settlement formally renamed the Rimutaka Pass to Remutaka Pass at the summit on SH2 between Featherston and Kaitoke on all of the NZTA and DOC signs up there – gazetted and effective from December 2015). When this new treaty is gazetted early in 2017, so too will official NZ Government acceptance of the corrected name "Remutaka".
Maps, signs, publications, our Trust and domain names and other mentions of the name will eventually be changed over to 'Remutaka'.
PANEL 1
Remutaka Conservation Trust
The Rimutaka Forest Park Charitable Trust Inc. (Now 'Remutaka Conservation Trust') made these panels to describe some of the native birds living in Remutaka Forest Park.
The Mission of the Remutaka Conservation Trust is "to protect and restore the natural vegetation and wildlife of the Remutaka Forest Park and to promote community understanding and appreciation of the Park".
Information is derived from local observations, New Zealand Birds Online (www.nzbirdsonline.org.nz), Te Ara - the Encyclopaedia of New Zealand (Te Ara NZ) and The Field Guide to the Birds of New Zealand (Barrie Heather & Hugh Robertson) 2015. Most images were sourced and selected from 'New Zealand Birds Online'. All are reproduced with permission from the photographers.
The Remutaka Conservation Trust acknowledges the support of the U.S. Embassy, celebrating 100 years of the U.S. National Parks Service in 2016, and our shared love of the outdoors.
North Island Brown kiwi / Kiwi
'Te manu huna a Tāne', the hidden bird of Tāne (god of the forest)
Community efforts return Brown Kiwi, New Zealand's national symbol, to this forest park. Brown kiwi are 'Nationally vulnerable' and Kiwi became locally extinct in the forests of the Remutaka Range about 100 years ago.
To make the forest a safe home for kiwi and other birds, the Rimutaka Forest Park Trust began a programme of controlling introduced predators, especially stoats and rats. In 2003, volunteers set up a trap network covering 3,000 hectares in the Turere and Whakanui Valleys.
This is the first project in New Zealand of this scale to be designed, managed and funded by a community organisation. More than 30 brown kiwi were introduced by the Rimutaka Forest Park Trust between 2006 and 2009 and the population is now well established.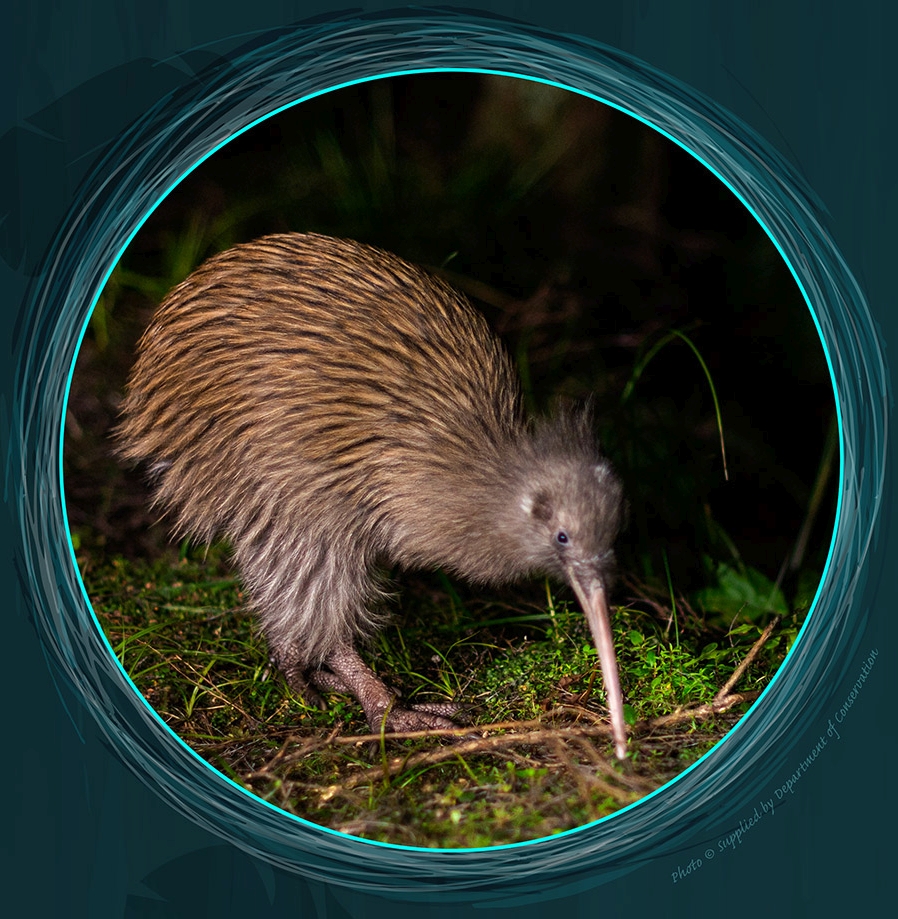 Brown kiwi facts
1. Kiwi are usually awake and feed at night. They rest during the day in a burrow, hollow log, or under thick vegetation.
2. Males call with a repeated high-pitched whistle, females have a deeper throaty whistle.
3. They feed by walking slowly, tapping the ground and probing their bill into the leaf litter, rotten logs or into the ground. Kiwi eat insects, spiders, earthworms and small fallen fruit.
4. Egg-laying is mostly from June to November. Eggs are white and very large. Males sit on the eggs until they hatch.
PANEL 2
Tui / Tūī
New Zealand's greatest imitator of the forest
Tui are now common in Remutaka Forest Park. Populations have increased markedly in Wellington since the late 20th century through control of introduced predators, mainly possums, rats and stoats. With help from dedicated volunteers who control these pests, the number of tui in Remutaka Forest Park are steadily increasing. Tui feed on a variety of foods, including insects, fruit, and are fond of nectar in flowering kowhai, flax, rewarewa and rata.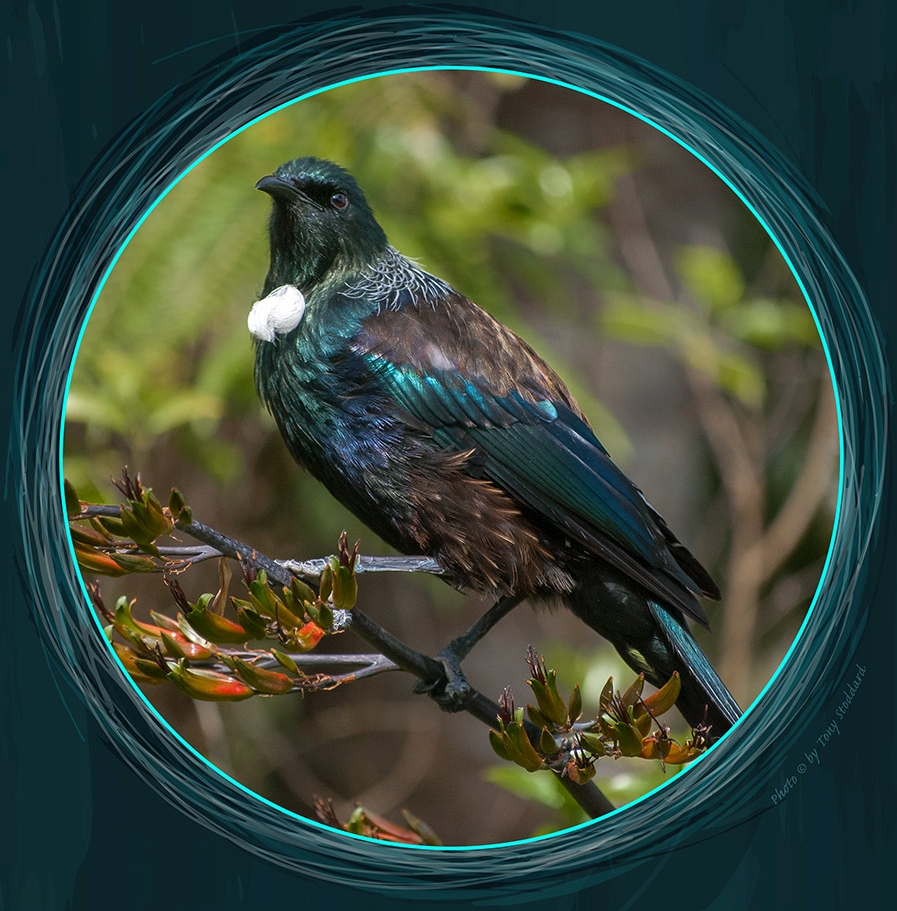 Tui / Tūī facts
1. Tui are aggressive and will vigorously defend a flowering or fruiting tree from other birds.
2. They have a noisy flight interspersed with short glides.
3. They are vocal birds having a complicated mix of tuneful notes with an amazing ability to mimic.
4. The female builds a bulky nest high in a tree. Eggs are laid from September to January and are incubated only by the female.
Bellbird / Korimako
He rite ki te kōpara e kō nei i te ata - It is like the bell-bird singing at dawn.
Bellbird has a distinctive musical bell-like song of ringing notes most often heard at dawn and dusk. The bellbird is found in forests, scrubland and gardens throughout New Zealand.
With a brush-like tongue bellbirds can reach into flowers for nectar and are important pollinators of the forest. They also feed on fruit and insects.

Bellbird numbers are increasing in the forest park through the efforts by the Remutaka Conservation Trust to control pests, especially rats and stoats.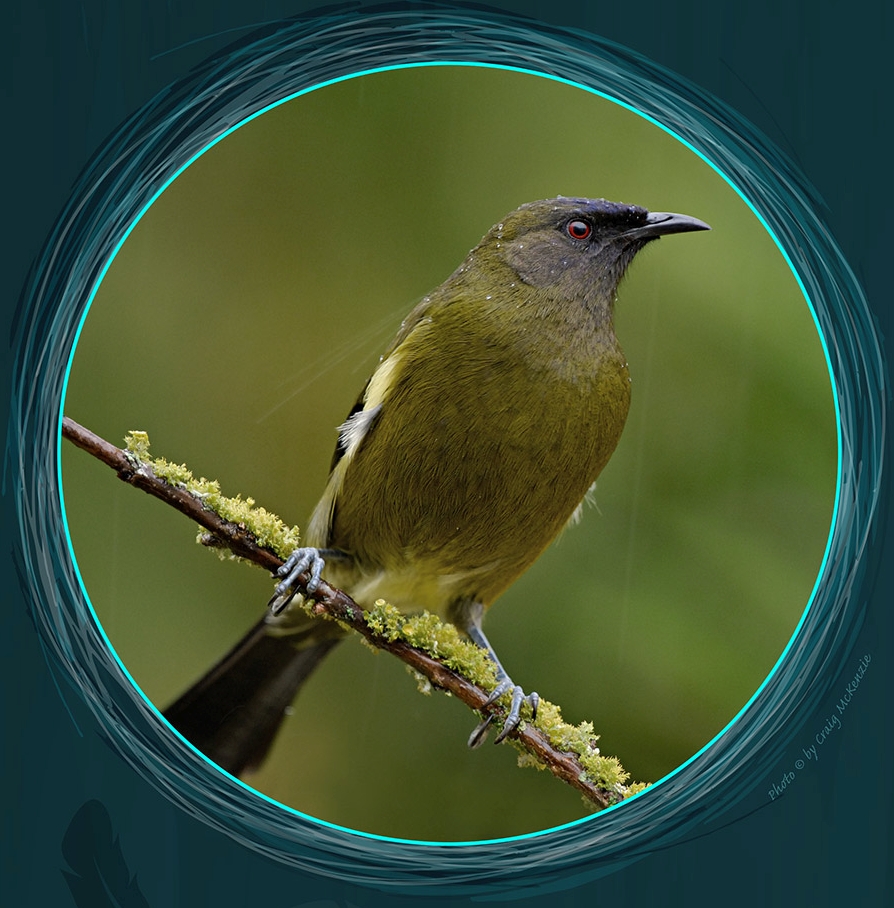 Bellbird / Korimako facts
1. Often the first bird heard singing in forests with clear pure notes.
2. Breed in spring and summer, building a nest of twigs and grasses.
3. Clutch size is usually 3 to 4 eggs. The female incubates and both parents care for the young.
4. Females are more brown coloured than the green males, with a white-ish stripe below the eye.
PANEL 3
Grey Warbler / Riroriro
The humble grey warbler…the most evocative of all our birds to the ear. It is the backing track to all our childhoods…A mystical magical sound, it is at once lament and elation. - Graeme Hill

The grey warbler is one of our smallest native birds. It is found throughout New Zealand, although more often heard than seen. Its long trilled song is much louder than expected given its size. It flies only short distances between branches in the canopy or in dense vegetation. Grey warblers often live in pairs, staying in their territory year-round. This tiny bird is often a breeding host to the shining cuckoo, rearing the cuckoo chick which is at least three times bigger than itself.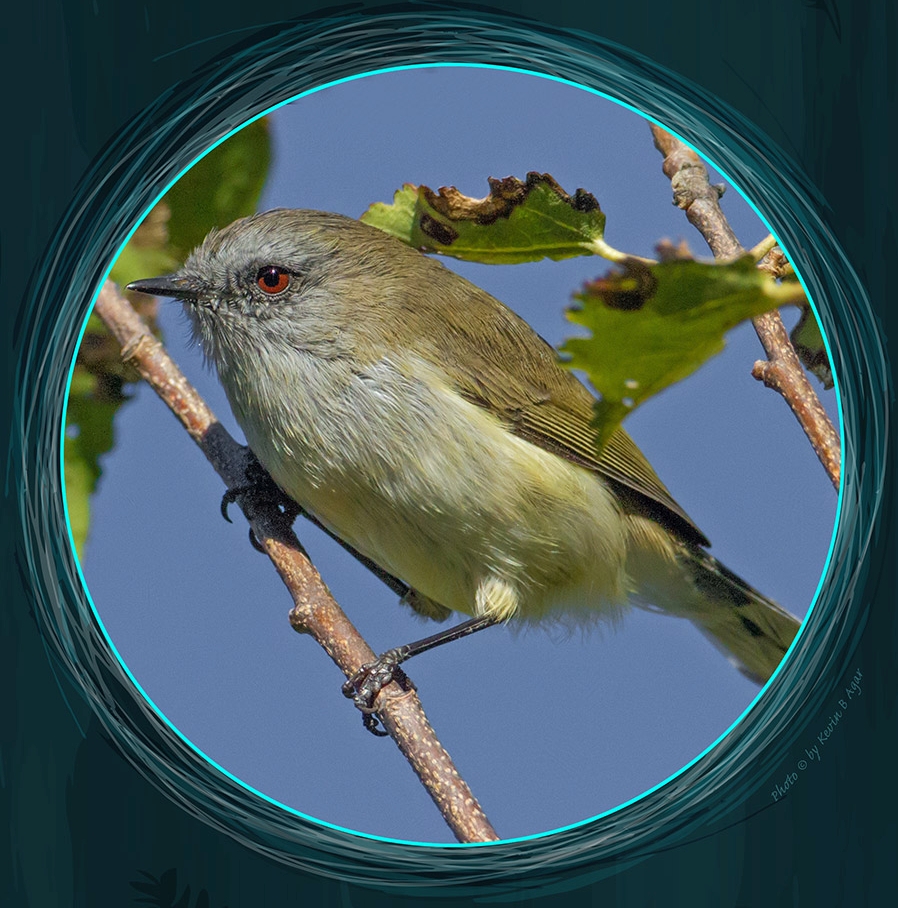 Grey Warbler / Riroriro facts
1. Feeds entirely on insects and often hovers while collecting insects from the forest canopy.
2. The grey warbler has a loud distinctive long-trilled song; only the males sing.
3. Breeds in spring and summer. The nest is a distinctive hanging enclosed dome, usually found in the outer branches of trees or shrubs.
Whitehead / Pōpokatea
Te Tini o te Hākuturi - spirit guardians of the forest
The whitehead is sociable songbird living only in the North Island and is common in tall forest and shrubland in Remutaka Forest Park, mostly above 250 metres altitude. It has an attractive canary-like song and chattering flocks of up to 8 can often be heard before being seen. The whitehead is the only North Island host for the long-tailed cuckoo.

Whitehead eat mostly insects but will also eat bits of fruit and plants.

Efforts by the Remutaka Conservation Trust to control pests, especially rats and stoats, are gradually leading to increased numbers of whiteheads in the forest park.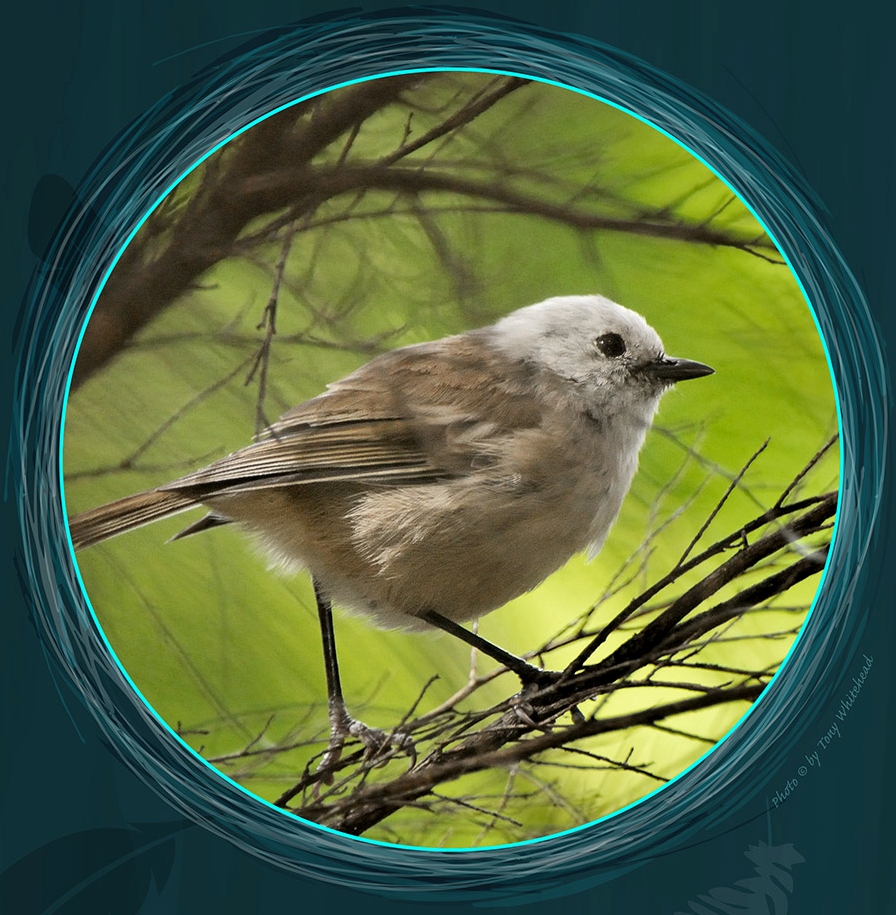 Whitehead / Pōpokatea facts
1. The whitehead produces a single clutch each year between October and January.
2. Nests are neatly woven cups lined with fine materials such moss hidden in dense vegetation. Each clutch usually contains 3 eggs and is incubated only by the female.
3. The long-tailed cuckoo lays her single egg in a whitehead's nest which is incubated along with her own eggs. Once the cuckoo chick hatches, it tosses the whitehead eggs and chicks out of the nest, and is exclusively raised by the whitehead.
PANEL 4
North Island Tomtit / Miromiro
"He karu miromiro" - an observant person, as sharp as a tomtit's eye.
The North Island Tomtit, Miromiro, is named for the verb "miro" or "mimiro" which means to twist and twirl rapidly. This insect eating bird has very sharp eyes and can spot an insect 10 metres away. It can be quite confiding, coming to within a few metres of a person.
Males are distinctive black and white; females are mostly brown. It is common in forest and shrubland habitats from lower slopes to the sub-alpine zone in Remutaka Forest Park.

Numbers of North Island tomtits are increasing in the forest park through the efforts by the Rimutaka Forest Park Trust to control pests, especially rats.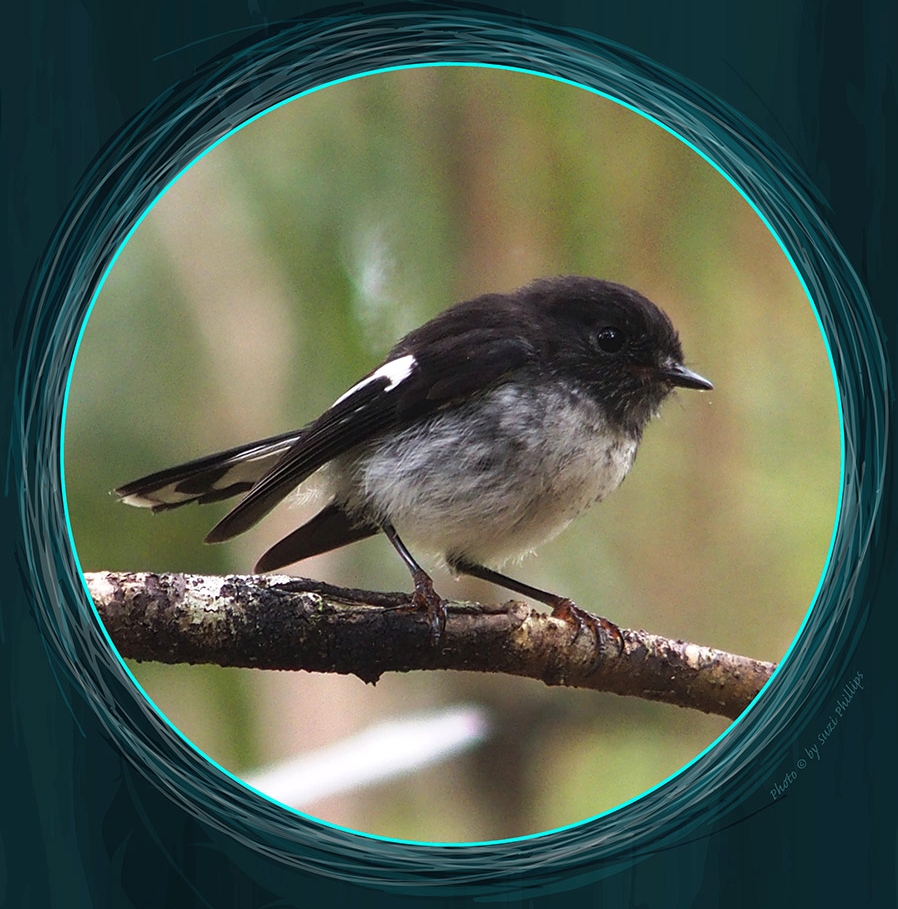 North Island Tomtit / Miromiro facts
1. Feed on a range of small insects, spiders and other invertebrates, also small fruit.
2. Breed from September to February and pairs may rear three broods in a season. Nests are well concealed in thick vegetation or in shallow cavities, and clutches consist of 3 or 4 eggs.
3. The female incubates the eggs and the male regularly provides food to his mate. Both adults feed the chicks.
New Zealand pigeon / Kererū
The gardeners of our great forests
Kererū are large, charismatic birds, easily spotted in our forests. In the early 1800s flocks of 100+ kererū were a common sight up until the introduction of predators such as possums, stoats and rats and prolific hunting for their meat. The kererū was granted full protection back in 1921 making it illegal to hunt which is still in place today. Since then numbers have started to increase in many parts of New Zealand. Pest control by the Remutaka Conservation Trust have led to greater numbers of kererū in the Park, especially in the Catchpool Valley.

Kererū feed mainly on fruit and also leaves. They are the only bird left in New Zealand that can swallow large fruits from native trees, such as tawa and hinau, so have an important ecological role in distributing seeds of trees.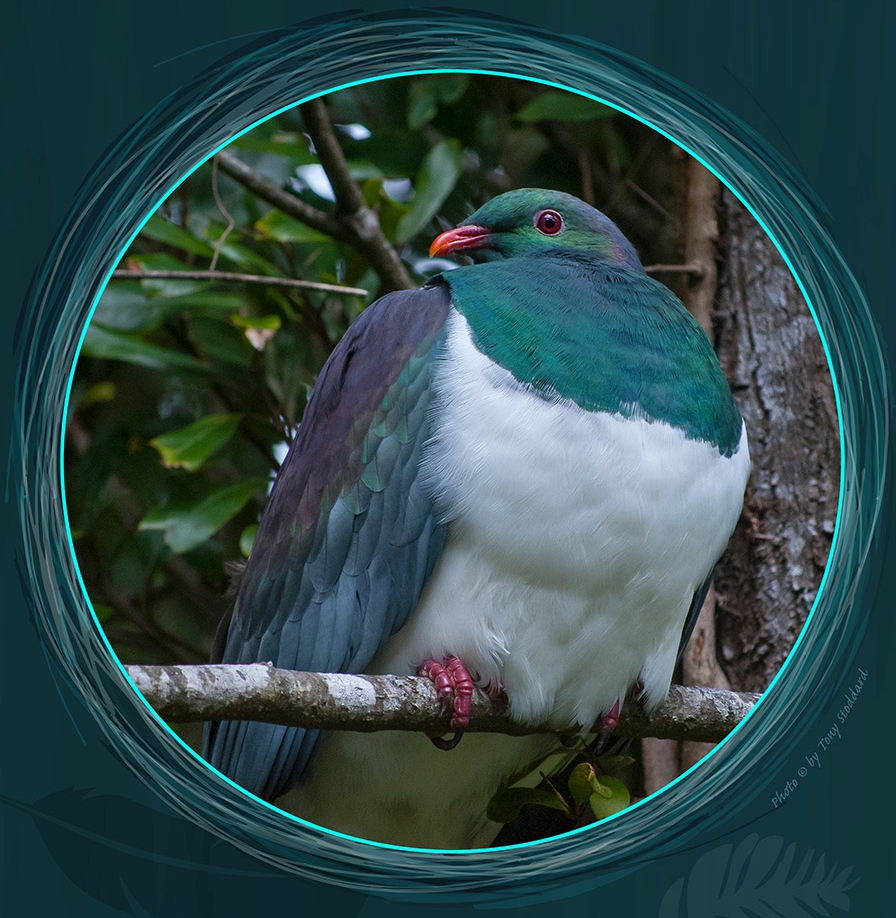 New Zealand pigeon / Kererū facts
1. The sound of its wing beats as it flies draws attention to the Kererū, but it also makes a soft 'kuku' when sitting.
2. The nest is a platform of twigs in dense vines high in trees, where a single egg is laid.
3. At the start of a nesting cycle, the males often make display flights high into the air.
4. Kererū can live up to 21 years.
PANEL 5
Silvereye / Tauhou
Tauhou – new arrival
Silvereye self-established in New Zealand from Australia in the mid-1800s and are now one of the most familiar native birds. They eat mostly insects, but also nectar, small berries and ripening fruit.

Silvereye is a common and attractive bird throughout New Zealand seen in gardens, farmland, orchards and forests. It is widespread in the Remutaka Forest Park and is recognised by the olive greenish plumage and conspicuous white-eye ring.

Silvereye are an active species, moving about often and are usually seen as pairs or in flocks, especially in winter.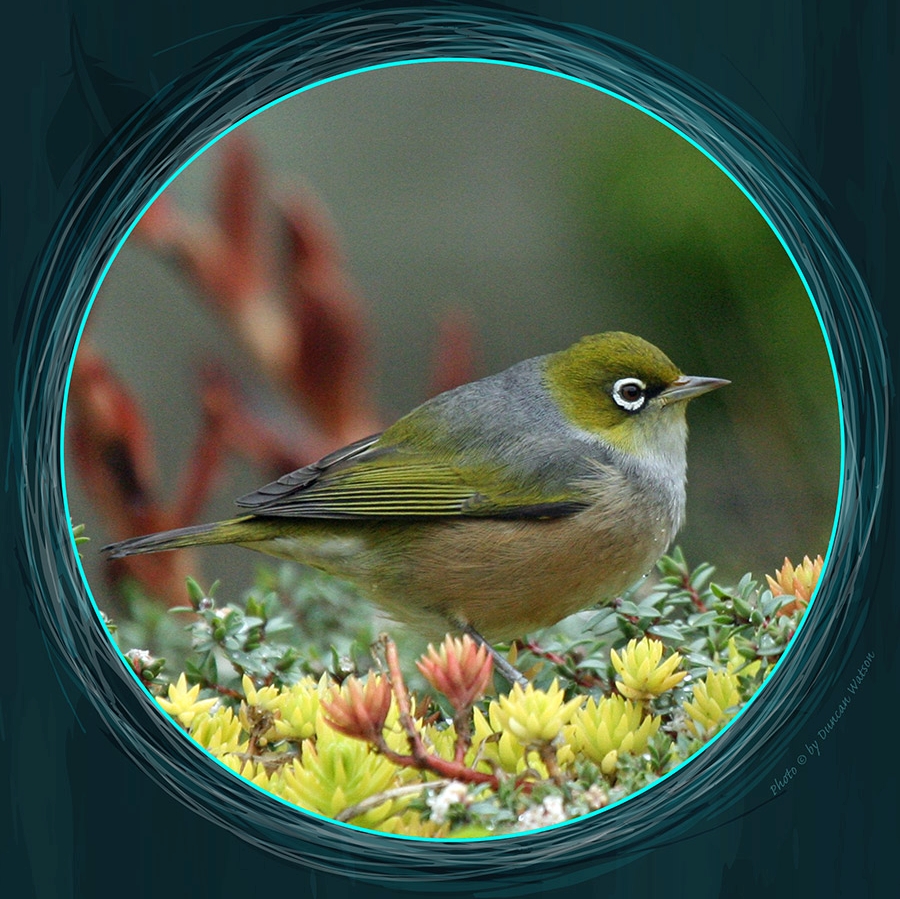 Silvereye / Tauhou facts
1. Silvereye mainly nest between September-November.
2. They pair up during breeding season, with both sharing nest building and feeding of chicks.
3. Nests are delicate cups woven into small branches well above the ground.
4. Two or three clutches may be raised each year.
Fantail / Pīwakawaka
Twisting and turning, these friendly birds come close, as if to say hello
The fantail is one of New Zealand's best-known birds with a distinctive fanned tail and a high pitched 'kissing' song. It often approaches people closely, chasing any insects disturbed by feet. The fantail is widely distributed in forests and gardens throughout New Zealand and is often seen in valleys in Remutaka Forest Park. However, local populations can become scarce, or disappear, during prolonged cold and wet weather.

Nesting adults, eggs and chicks are very vulnerable to rats and stoats. A trapping programme by the Remutaka Conservation Trust helps to control predators.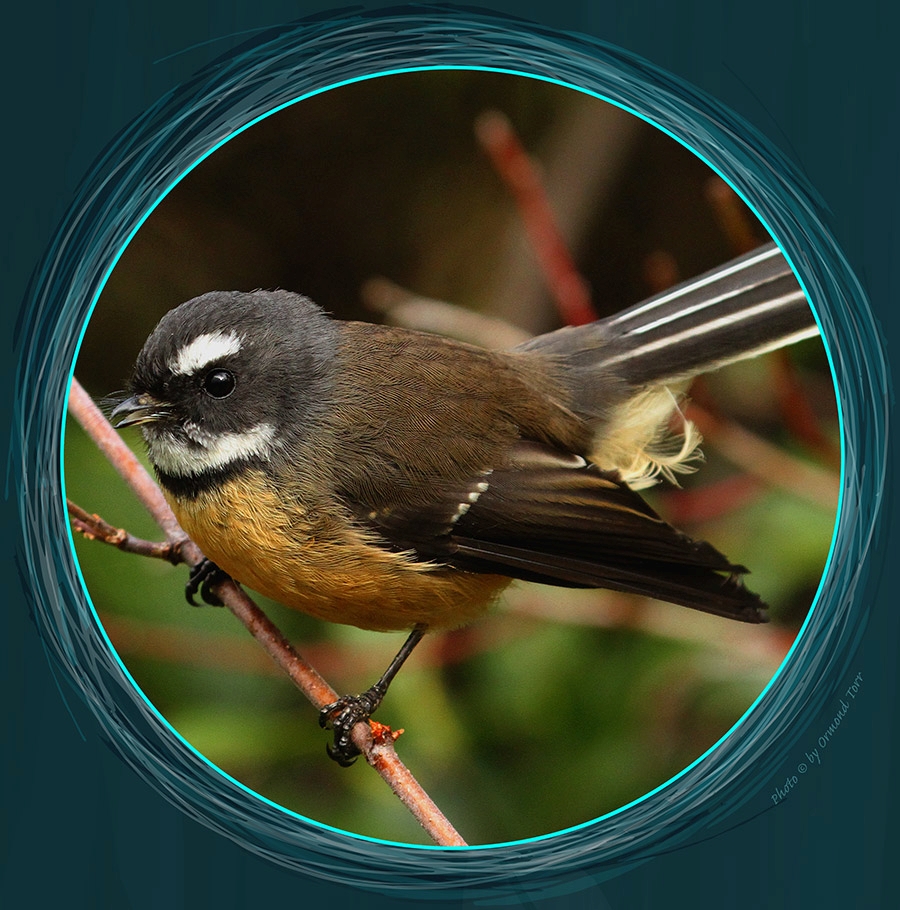 Fantail / Pīwakawaka facts
1. Two colour forms occur; the more common pied form occurs throughout the New Zealand, and the black colour, only occasionally seen in the North Island, and is rare in Rimutaka Forest Park.
2. The fantail feeds mainly on small insects, like moths, flies and beetles.
3. Most nests are sheltered are made of mosses, hair, dried grasses and ferns tightly woven together with cobwebs and often includes a 'tail' of material below the base of the nest. Two to five eggs are laid. Both male and female birds care for the chicks.
PANEL 6
Morepork / Ruru
Rich with Maori symbolism; guardianship, grief and protection
The morepork is a small, forest-dwelling owl having striking yellowish-green eyes. Glowing eyes are replicated in many Maori carvings, often using paua shell set into wood. It is relatively common throughout New Zealand, including in Remutaka Forest Park. Its distinctive "more-pork" call is commonly heard at night. The morepork has short, broad wings making it very manoeuvrable and able to fly silently through dense forest.

The morepork hunts at night to catch a variety of small animals, including large insects, small birds and small mammals.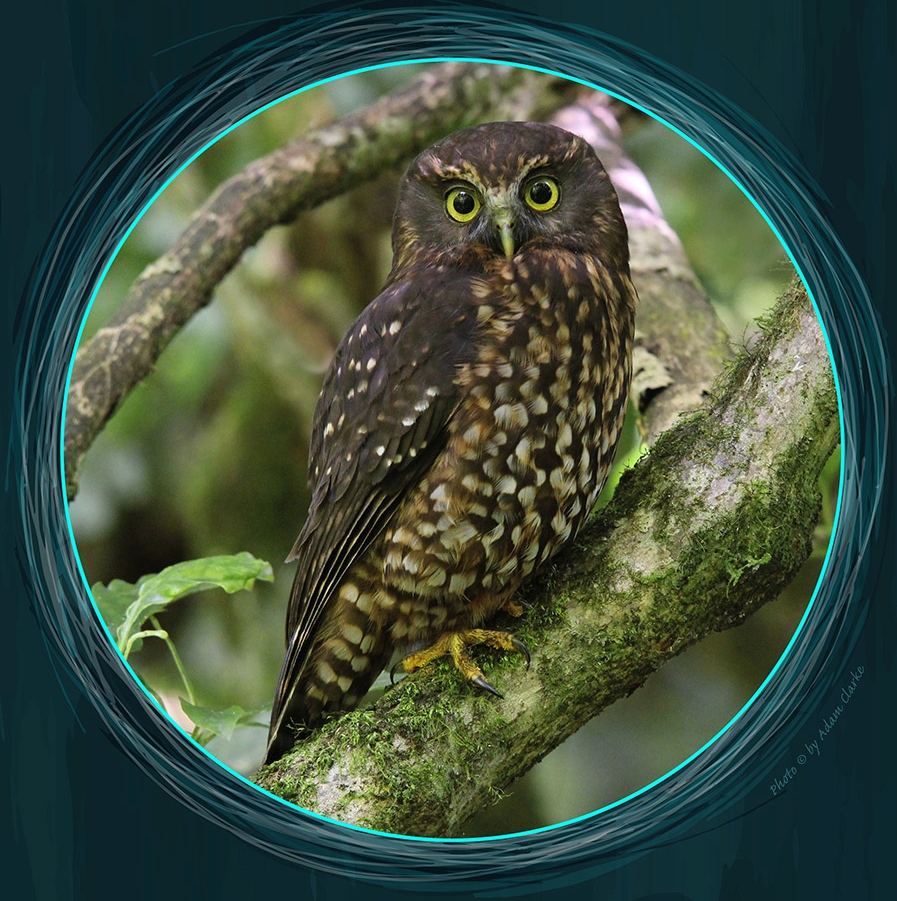 Morepork / Ruru facts
1. The morepork breeds in spring and summer.
2. Nests are usually in cavities of live or dead trees, in a hole in earth banks and sometimes on the ground.
3. Morepork have three distinct calls, 'more-pork', a repetitive 'quork-quork' and a rising 'quee' call which is sometimes confused with kiwi calls.
New Zealand falcon / Kārearea
NZ's most threatened bird of prey
The New Zealand falcon, sometimes called the bush falcon, occurs in small numbers in Remutaka Forest Park, mostly in dense forest, sometimes in open landscapes. It has a conservation status of 'Nationally vulnerable' due to habitat loss for breeding, predation, and loss of prey.

A fearsome hunter, the New Zealand falcon has relatively short wings, and a long tail that makes it very manoeuvrable and able to catch birds in flight. It hunts along forest edges and can surprise its prey by flying very close to the ground. Food is mostly small birds, but occasionally it takes larger animals such as chickens, pheasants and rabbits.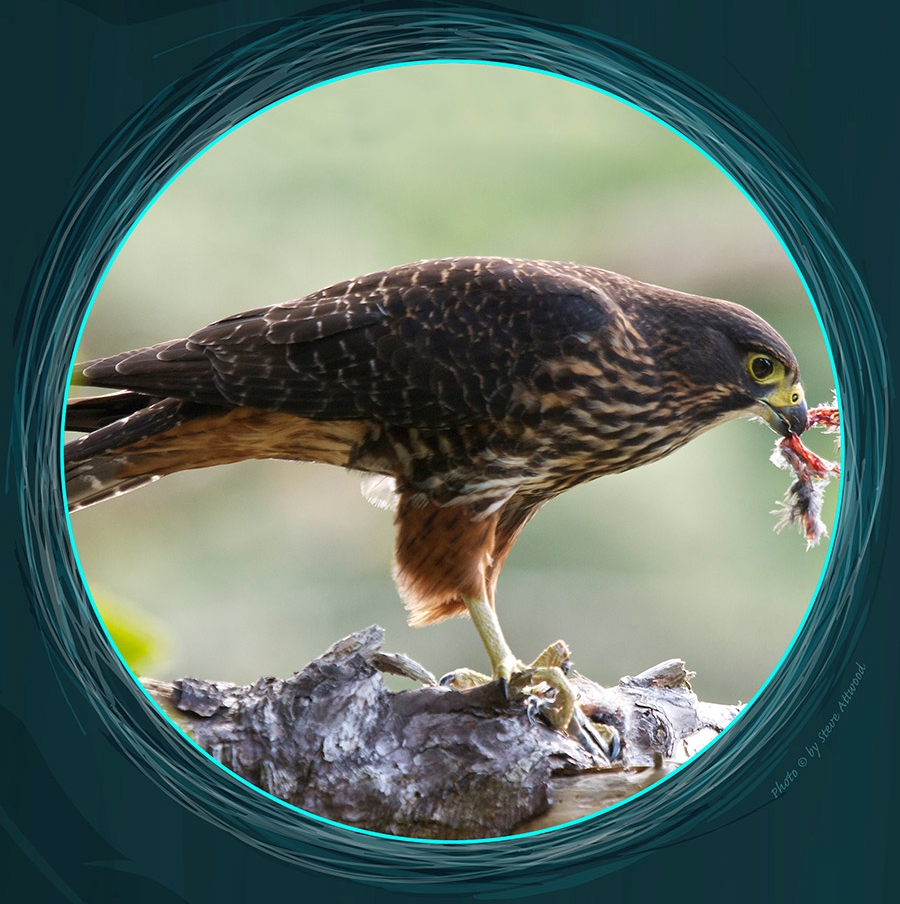 New Zealand falcon / Kārearea facts
1. Males are smaller than females.
2. Breed in spring and summer. Eggs are laid in a scrape in the ground, on a ledge or in a tree. Incubation is generally shared, but it is the female that generally sits on the nest, while the male does most of the hunting.
3. Where falcons nest on the ground they are well known for attacking intruders, including people, with aggressive strikes to the head.
PANEL 7
Rifleman / Tītipounamu
Ttīti – a high pitched call, Pounamu - for bright green feathers
Rifleman are New Zealand's smallest bird and are one of two surviving species of the ancient family of wrens. Males are smaller than females and are bright green on the head and back. They call constantly but can be difficult to hear as their calls are so high-pitched.

These tiny forest-dwelling birds are constantly on the move foraging for small insects and spiders within the forest canopy and on tree-trunks. In Remutaka Forest Park, they mostly occur at higher elevations in beech forest, above 400 metres.

Rifleman populations have dropped elsdewhere because of habitat loss and through the impacts of introduced pest species, particularly stoats.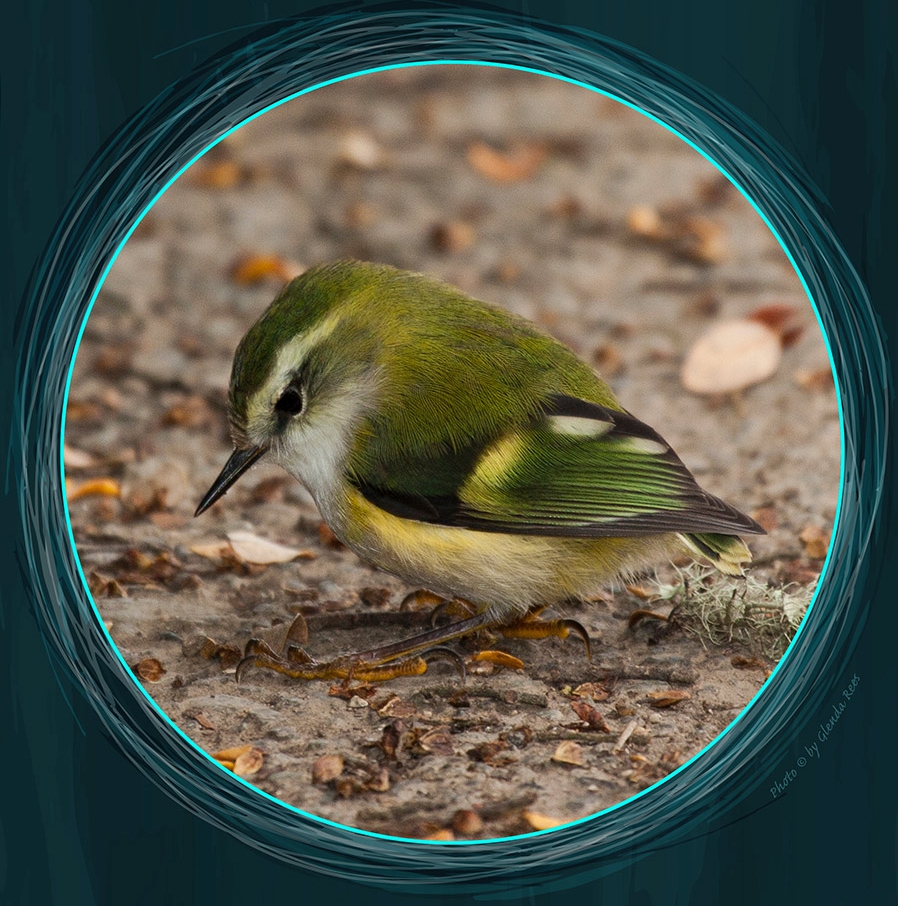 Rifleman / Tītipounamu facts
1. Breed from August through to February, often in cooperative family groups which raise broods together.
2. They build spherical nests within existing cavities.
3. The male does most of the nest building, and both sexes contribute to incubation and to feeding of chicks.
Yellow-crowned parakeet / kākāriki
Ko te rua porete hai whakarite' - a group of people gossiping excitedly, just like a nest of kakariki
The kākāriki is a small, bright green, long-tailed noisy parrot often heard before being seen with a distinct chattering call. They were once common throughout New Zealand but are now rare. They occur at higher elevations in Remutaka Forest Park.

Kākāriki are vulnerable to attack by stoats, rats and possums, particularly while nesting and roosting in holes. A programme managed by the Remutaka Conservation Trust to control these predators is helping to restore the kākāriki population.

They are strong fliers and sometimes fly high above the forest canopy, but will also land on the forest floor to bath and eat seeds.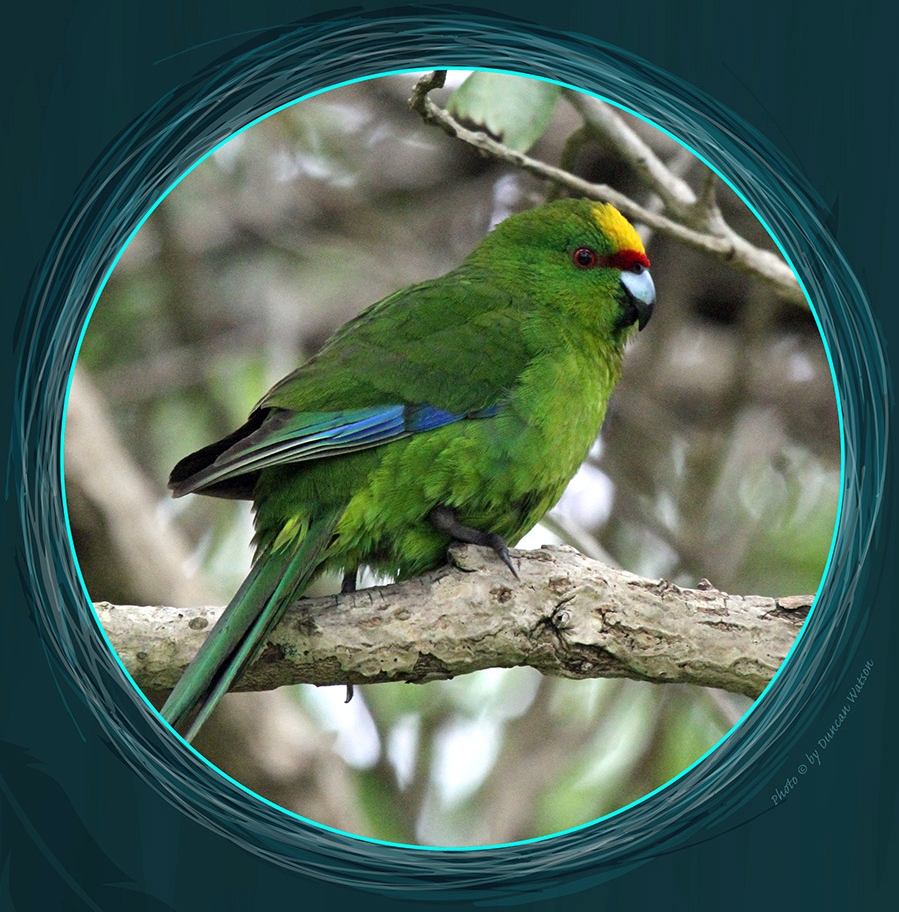 Yellow-crowned parakeet / kakariki facts
1. Food includes seeds, buds and invertebrates.
2. Kākāriki mostly breed through summer, but when food is abundant, can breed throughout the year.
3. They usually nest in holes in old trees, laying five or more white eggs.