Downloads
Recent RFPT Newsletters
Annual Reports - RFPT & Remutaka Conservation Trust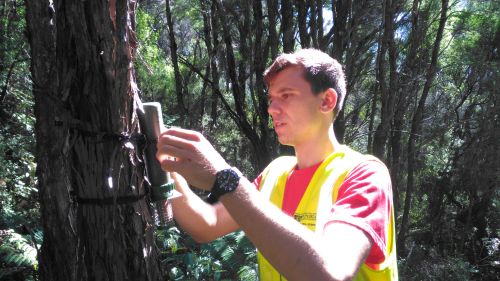 Roald Bomans of Victoria University affixing an acoustic recorder to a tree to monitor bird song before and after aerial 1080 treatment.
Photo credit: PC.
Acoustic survey of the diurnal bird population in the Remutaka Forest Park
In December of 2015 the Trust deployed acoustic recorders at 75 sites in the Remutaka Forest Park, in order to estimate the relative abundance of diurnal bird species. This was the first time such a comprehensive survey of day birds had been carried out in our region. We followed the counting protocol used by researchers at Victoria University of Wellington. (More...)
Read the full report here: Report: Acoustic Monitoring - RFPT
(Adobe Acrobat Reader format: PDF, approx. 4Mb)
Acoustic Survey of kiwi population - Remutaka Forest Park - 2011 to 2021
Here's the latest report on the North Island Brown Kiwi call monitoring conducted in the Remutaka Forest Park and adjacent territories during the period 2011 to 2021.
Report: Report_acoustic_monitoring_kiwi_2011_to_2021
(Adobe Acrobat Reader format: PDF, approx. 7.2Mb)