Our members...
Our members are a diverse lot, spanning all ages and occupation types. What they do have in common is a deep and abiding love for our native New Zealand bush and its unique flora and fauna. All are committed to the preservation and restoration of the Remutaka Forest Park, near Wainuiomata, at the southern tip of the North Island, New Zealand.
New members are always welcome! We have many different and interesting roles to fill for keen volunteers. Learning opportunities abound and you'll enjoy the company of many great characters among our existing members!
Perhaps you have some specialist skills that you'd like to contribute to assist us in attaining our long-term goals and objectives?
If so, please complete the Membership Application Form here... (Microsoft Word document format download: 37kb) and send it in to the Membership Secretary at:
membership@remutaka.nz - Or:
Mailing Address:
Remutaka Conservation Trust
PO Box 38-564
Wellington Mail Centre
Lower Hutt 5045
New Zealand
Email: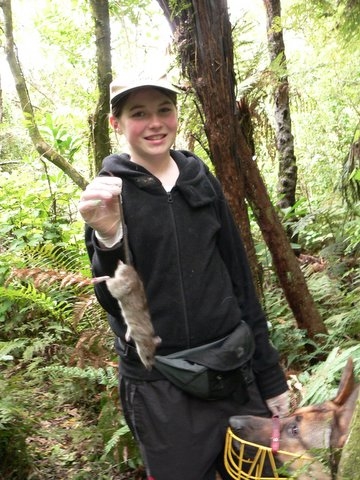 Youthful trapping team member shows off a 'customer' found in one of her traps.
To see what conservation-related volunteer opportunities exist within the Remutaka Conservation Trust, visit our WANTED! page...